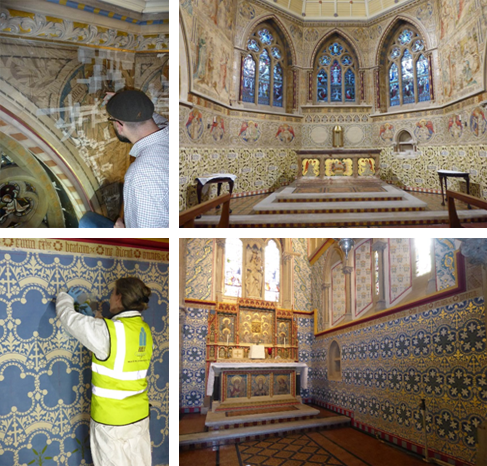 The Church of the Sacred Heart, Caterham, Surrey contains a significant scheme of wall paintings by Joseph Aloyisius Pippet (1840-1903) executed for the Hardman Company between 1890 and 1892. Over the years they had become damaged by water ingress, movement of soluble salts, abrasive cleaning, modern varnish application and over-painting with impermeable paints.
In November 2015 Hirst Conservation undertook the investigation, analysis and trials of the painted decoration to the Sanctuary and Lady Chapel prior to starting a major programme of conservation and restoration in 2016. Works included the removal of damaging overlying paints to the Lady Chapel and to the Sanctuary dado and lime mortar repairs, as well as consolidation, cleaning and reintegration of losses to the Sanctuary upper wall paintings.
In January 2017, following carbonation of the lime mortar repairs, the lost and damaged stencilled decoration to the Lady Chapel and Sanctuary dado was re-instated. In addition, new altar panels were painted based on the available archival photographs.
For further information visit www.hirst-conservation.com