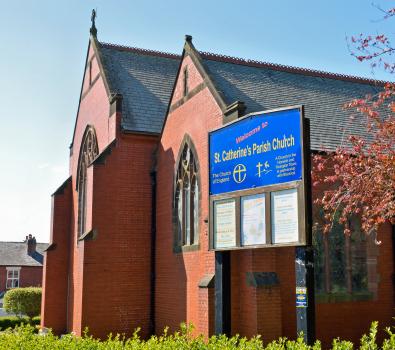 A major project just completed at St Catherine's Parish Church in Horwich near Bolton, restores original terracotta features that were suffering from over a hundred years of weathering. More than 100 new blocks, manufactured by Darwen Terracotta (DTL) in Blackburn have been installed by Lambert Walker Limited under the supervision of Buttress Architects in Manchester.
St Catherine's is noted for its magnificent West window, framed in terracotta and part of the initial phase of construction undertaken between 1897 and 1902. "Time had not been kind, the prevailing weather had eroded joints permitting water ingress resulting in secondary frost damage to some of the blocks," observed DTL director Jon Almond. In total over 100 blocks were identified that had been damaged beyond repair including sills, mullions and window surrounds as well as wall copings and buttress units.
"Terracotta of this age is particularly prone to damage," noted Jon. "The original blocks would have been made in coal fired kilns where temperatures would be uneven, resulting in the clay vitrifying to differing degrees, so some underfired pieces would have been softer, more porous and liable to damage in the long term. Modern gas fired kilns we use today have multiple burners and close temperature control so all pieces are consistently vitrified throughout the kiln."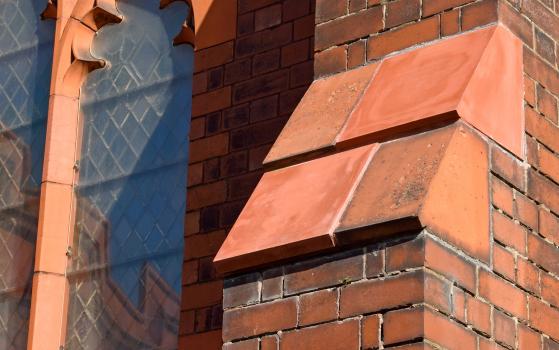 Great care was taken to manufacture the new blocks to ensure a precision fit and to match the colour of existing material as much as possible. Based on careful measurement of the existing pieces, DTL skilled crafts people created new models and moulds taking into account shrinkage that takes place in both the drying and firing phases. Each piece was expertly hand finished and compared to existing weathered terracotta to ensure a good match on both colour and texture. On completion each piece was individually inspected for marks and chips before shipping to site.
Darwen Terracotta provide a nationwide service enabling church buildings, schools, municipal and other heritage buildings to be fully restored.
For more from this company visit their website www.darwenterracotta.com