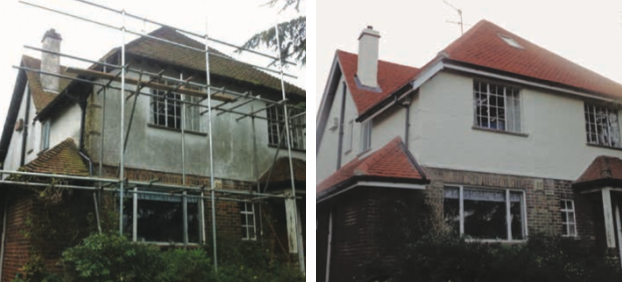 Leading NFRC member, Heritage Roofing & Renovation Ltd is pleased to be the first contractor to complete a full roof refurbishment under ONE Warranty.
AN EXTREMELY CHALLENGING PROJECT...
It didn't take long for Heritage Roofing & Renovation Ltd to realise that the job they'd taken on would be no ordinary re-roof. The building was an early 20th Century detached town house in Dorking, Surrey, with a 170m2 roof that comprised four Barn Hips and two Gable Ends – highly unusual, and extremely challenging, for a building of this size.
The varying pitches meant the roof had almost no straight runs, so every single component had to be cut to the correct size, depending on the area of the roof.
The SR Timber roofing battens were therefore all individually cut and laid, as was the TIL-R underlay and SIGnature Clay Tiles. If this wasn't time and labour intensive enough, the six breglass dry valleys – another unusual characteristic for a roof this size – made it all the more tricky.
... REQUIRING A COMPLETE RE-ROOF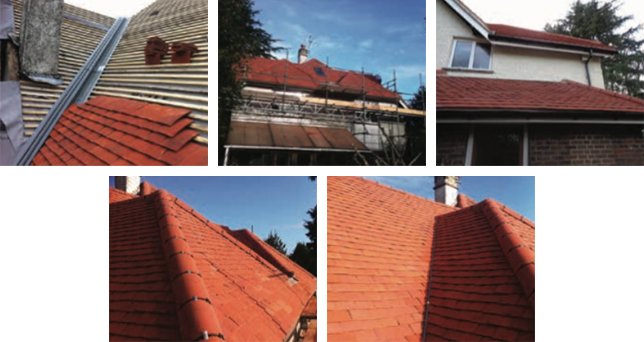 The new roof covering – comprised of approximately 9,000 SIGnature Clay Tiles, Hips and Ridges, together with TIL-R dry x ridge kits. When installing the kits, a valley tray was required to support the weight of the materials - two new dormer and two new Velux windows were also installed.
The dormer windows were fitted on a separate at section of the roof that also required refurbishment. It proved to be yet another tricky part of the job as two valleys, either side of the at roof, needed additional lead work and re-rendering.
Once the roof area was refurbished, Heritage straightened the crowns of the building's chimney stacks to ensure a neat professional finish, before installing lead flashing around them and re-rendering where necessary.
Further inspection revealed rotting timbers on various parts of the eaves, fascias and soffits that needed replacing, as well as render that needed to be cleaned and repainted to ensure a professional and attractive finish. It was during this clean up that the team also discovered a purlin that was close to penetrating the frame. To avoid any future maintenance issues for the homeowner, this was also removed and replaced.
The amount of varying pitches and valleys on the pitched section, as well as the positioning of the flat roof section and its surroundings, meant this was one of the most challenging projects the company had been involved with. It's a testament to their tenacity and skill that they completed the job to the homeowner's full satisfaction, safe in the knowledge that all the products they'd used were covered by ONE warranty.
Find out more about this NFRC Heritage expert at www.heritageroofingrenovation.com