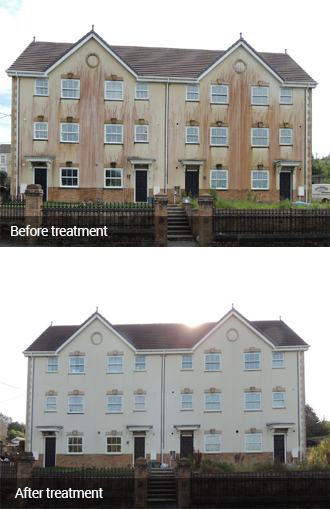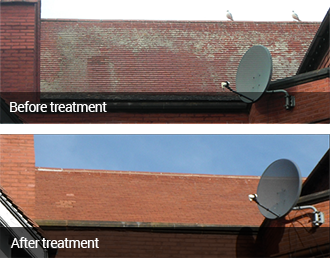 Most of the discolourations are due to the presence of a biological layer, the biofilm. The appropriate use of a mild surface biocide is often all it takes to recover the original surface in a matter of days, the time it takes for the dead biofilm to disperse. The biocide has to tick the right boxes for the task, Algoclear Pro - the market leader - is recommended by KRend
The treatment is active on microbial life, but does not interact / oxidise / discolour any material used in construction or canvas structures. The treatment is safe in use and safe for the environment, the application techniques are adaptable to dense urban environments, without invasive machinery.
Algoclear Pro breaks down in contact with biomass, a run off or spray drift entering the ground or a drain quickly deactivates. As sea salt also deactivates Algoclear, there is no risk of pollution in coastal exposures.
Once the initial cleansing is complete, some finishing may be necessary. The local application of a dedicated gel will remove the remaining deeper stains.
The most common cause for dark staining on render is a fungi established within the surface porosity, excreting a UV filter. The marks are distinct at masonry joints but can thinly colonise entire elevations on white render and pebble dash. Metaclear is applied by brush or pressure fed rollers in a manner familiar to decorators. It is rinsed after a few minutes dwell time.
The cost of the cleaning techniques varies with too many factors to quote a median value. It is however at the lower end of the cost bracket of any technique in use. Productivity is achieved through the provision of adapted equipment and on site training.
For further information visit www.algoclear.com