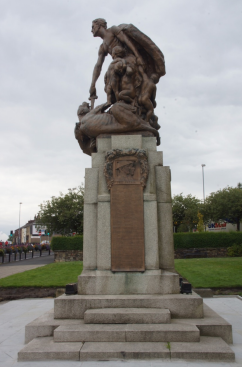 The Crompton & Shaw Memorial was commissioned by the Crompton War Memorial Committee in 1919 and the bronze statue was made to a design by Richard Reginald Goulden. It sits on a granite plinth and depicts a male figure protecting children from marauding creatures. Today the Memorial is Grade II Listed.
Heritage Project Contracts was appointed by Oldham Metropolitan Borough Council to undertake conservation work to the Memorial. It had been previously restored in the 1970's when the original dark patina had been removed by abrasive means during treatment. The previous work was beginning to fail with corrosion occurring to the bronze beneath.
The bronze work was treated in situ. The existing lacquer coating was carefully removed using a chemical stripping agent. The bronze surface was then washed with a steam cleaner and areas of remaining copper corrosion deposits treated and removed. The bronze surface was chemically re-patinated using a potassium polysulphide solution to darken the bare metal, followed by a pigmented microcrystalline wax to finish.
A final protective coating of microcrystalline wax was applied. A new bronze planter was cast to replace a missing one.
The granite plinth and stone steps were cleaned by specialist stonemasons. The Memorial and steps were also repointed as necessary to finish.
For further information visit www.heritageprojectmanagement.com