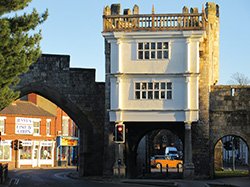 Walmgate Bar is the most complete of the four main medieval gateways into the City of York. It is the only one to retain its barbican, portcullis and inner doors and has recently undergone a major programme of restoration work. This included repairs to stonework dating back to the 12th century and improving public access.
At the city centre side of the Bar is a two storey oak timber framed structure dating back to the 16th century. This part of the building had suffered from timber decay, structural defects and the rectification of failing repair works undertaken back in the 1970s and 1990s.
Specialist joinery and woodcarving contractors Houghtons of York were selected to work alongside City of York Council to undertake the delicate repair work. Their team of highly skilled craftspeople undertook traditional splice repairs to the timber framing, the fitting of chestnut lathing for traditional lime rendering and the introduction of stainless steel restraints to create better load transfer of the roof structure to the supporting stone columns.
Significant thought was given to ways in which the durability of the structure could be improved with future maintenance minimised. This resulted in 'Accoya' being selected as the preferred timber to be used for the new cornices. Following detailed initial surveys these new timbers were profiled and reinstated to match all of the originals.
At roof level a new green oak balustrade was built to replace the previous heavily decayed softwood version that had been removed on safety grounds. A new decked area was created for use by visitors to the café allowing views across the city skyline.
The City of York Council and Houghtons of York were delighted that the Walmgate Bar / York City Walls project was awarded both an Institution of Civil Engineers Certificate of Excellence and Sir John Fowler Award and that it was the winning entry for 'Conservation & Restoration' in the 2016 York Design Awards.
Houghtons of York have for the past two years won the prestigious British Woodworking Federation Technical Excellence and Innovation Award.
Find out more about what Houghtons can do for you at www.houghtons.plus.com