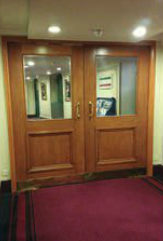 As building owners or operators we are custodians of a number of valuable assets, such as the premises themselves and the often overlooked element of the need for continuity of operation. Plus, of course, when our buildings are occupied – human life.
So, as conscientious people we try to ensure our buildings are designed to be safe and managed as much as possible so as to prevent a fire.
They are equipped with fire detection systems and possibly fire suppression systems. We even develop and practice emergency evacuation strategies as part of our management plans. All of these aspects of fire safety are reasonably obvious and tangible items for responsible building operators.
But if a fire should occur, it is vital that all these systems work as intended and we retain control of a situation. Those elements are important; but also critical is keeping any fire in its room of origin. Is the fabric and fixed elements of your building capable of preventing the migration of noxious smoke into escape routes, or the burn-through of hot flames and gases between adjacent areas?
Keeping a fire to its place of origin has two distinct advantages: it helps fire-fighting measures by keeping fires smaller and it keeps escape routes passable for the efficient evacuation of the occupants.
That would seem relatively straightforward, but it is difficult to assess whether the correct construction details are actually in place. Indeed, on a regular basis I have seen even newly-built premises with significant breaches in fire compartment lines. That could be compared to missing sections of a fire alarm system, which I am sure if noticed would ring alarm bells with a building operator.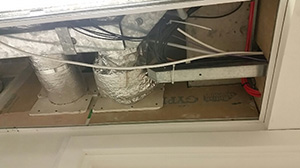 Self-certified fire walls of dubious 'ad hoc' design
The problem is that these vital details are often covered over and long forgotten. There is a poor understanding within the construction industry of the care required to correctly assembly the various materials and not much happens in the way of detailed third-party inspection during the construction process. So, while we test our active fire-safety systems and management plans, do we do the same for the passive fire safety systems in our buildings?
What are passive fire safety systems?These are items such as fire and smoke doors, shutters, fixed glazing and overhead panels as well as the internal walls, ceilings and floors of a compartment where there is a fire risk or a need to protect escape routes such as stairways. Rooms such as electrical plant rooms and kitchens are likely to have been designed by the architect to be fire resistant. Subsequently the architect's design will have been passed by Building Control, so the assumption is that the building will functioned as designed. Arguably, it is a similar scenario to when we flick a light switch: the architect intended a light to come on. The function is obvious and probably taken for granted. So, do we take it for granted that the building will function correctly if a fire should occur? The answer is more than likely to be 'yes'.
From my experience of surveying fire doors and passive fire-protection installations, I can say they rarely match the manufacturer's technical standards. So to varying degrees they will not hold back fire or smoke for the presumed time – sometimes marginally, often significantly. The building's reaction to an input – that is, a fire – which we have taken for granted, is not going to happen as we think; but we do not know it.
Frustratingly, it is often a low-cost solution that will bring an item back to within the manufacturer's tested condition, and so give us our correct function. We should be aware of the efforts manufacturers of fire-safety products have to go to in order to achieve passes in British Standard and, recently, tougher European Standard furnace tests. The majority of these products, whether they be fire doors or fire walls, are intolerant to deviation from the successfully tested sample, particularly for 60 minute tests – hence the need for careful assembly on site.
So, in order to establish that your building will perform as has been predicted, that you do not have misleading evacuation plans and that, should a fire occur, the building's assets are best protected and a minor occurrence does not become a devastating event, UKAS third party-accredited surveys of your building's passive fire protection measures are highly recommended.
By Jeremy French, Technical Director at Prestige Fire Door Services Ltd
For further information visit www.prestigefiredoorservices.com