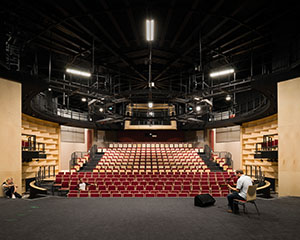 Heritage buildings, successfully refurbished, can make a significant contribution to community participation. When in need of a new or continued lease of life, sensitive creative intervention, new ideas, artistic expression and local interaction have the potential to help the buildings flourish.
The work of Sound Space Vision (SSV) in this field includes transforming a redundant Grade II Listed church in Hammersmith into a performing arts venue. Also, in Manchester, a sought after orchestra rehearsal space has been borne for the Hallé Orchestra out of a disused chapel.
At the University of Sussex Attenborough Centre for Creative Arts (ACCA), SSV, in collaboration with RHP Architects, have reinvented the facilities at the former Gardner Arts Centre. Remaining within the vestiges of the original 1960s design by Sir Basil Spence, it has been upgraded and transformed into effective rehearsal and performance spaces, teaching and workshop arenas and public gathering spaces for both its students, the wider community and professional ensembles.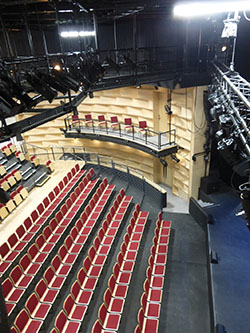 Hosting a state-of-the-art 350 seat main auditorium, the improved facilities enhance artistic expression through creatively pragmatic interventions. Access, circulation, inclusivity and staging issues have been addressed. Multiple seating configurations of end-stage, thrust, in-the-round and flat floor are achievable through the series of mechanically assisted platforms in front of the stage. The combination of loose seats and retractable seating can be tailored to these formats.
Designated storage areas for a grand piano, seating components and technical equipment are strategically located. Technical operations marry client expectations with a new technical infrastructure enabling cutting edge lighting and AV requirements. For example, the client has found manoeuvring the Steinway piano on and off stage a straightforward exercise due to SSV's theatre planning which includes same level access, proximity and adjacency.
In making spaces at ACCA accessible to all, serving artists and audiences alike, the design achieves the difficult balance of working for both theatre and music. Following a Complicite performance, arts administrator Richard York commented in Sightline magazine: "It tested the auditorium for sightlines, focus, intimacy, technical flexibility, legroom, comfort, air quality, neighbourliness and sense of occasion... and none was found wanting."
For further information visit the website www.soundspacevision.com
Images courtesy of ©ACCA-JimStephenson