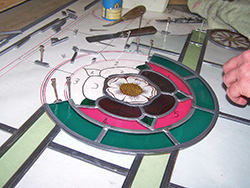 Leading central panel and medallion
Carved Tudor roses on the woodwork of a grand Tudor house in Norfolk provided the inspiration for the creation of new leaded lights for a window of that same house. The new design, by Norfolk studio Kenton Brauer, is a replacement for an existing stained glass window which had become tired-looking, with some broken lights.
Kenton Brauer is a very personal Norfolk business, working to craft and restore traditional and contemporary stained glass and casements for ecclesiastical, commercial and domestic commissions. In the case of the Tudor house, in Harleston, partners Paige Kenton and Jason Brauer removed the existing stained glass and replaced it with a subtle design to complement the house's ambiance.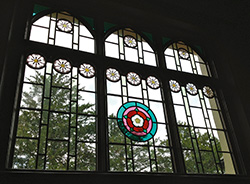 Completion of designed stained glass panels
Paige Kenton explained: "We took inspiration from the carved woodwork of Tudor roses throughout the house to design painted roundels to fit within the contours of the wooden tracery. Working closely with the client and their designer, we changed the colours of the glass within the central medallion from traditional to contemporary, to suit their renovated interior space. Here, we chose Lamberts hand-made cylinder glass, including 'gold pink' to achieve their desired palette. We then mixed glass paints to match the surrounding woodwork tone."
Once the design had been perfected, the trace lines and matting for the Tudor rose roundels were hand-painted, then finished with a yellow silver stain applied to the centres. After kiln firing, all the pieces were leaded with the smallest round lead came that would let as much light through as possible while maintaining strength. Once soldered, lead cemented and polished, the panels were fitted with putty and the restored ornamental saddle bars.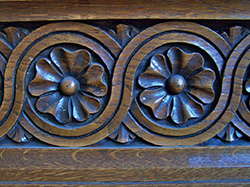 Wooden moulding
The owners of the house were full of praise. They wrote: "Your professional, personal and detailed service delivered way beyond our expectations. The depth of knowledge, skill and sensitivity involved in your service was superb. It is rare to find commitment and delivery on such a high level. Truly an artistic pleasure."
Prior to setting up Kenton Brauer, Paige and Jason trained and worked intensively with the family business, The Norfolk Stained Glass Company. Following the retirement of their uncle, Michael Wiley (ACR ICON), they took over the business and now live and work from its premises. Michael now oversees all of their work, ensuring a consistent high quality of craftsmanship.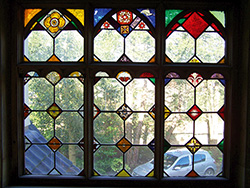 Completion of designed stained glass panels
In addition to creating new pieces for period and contemporary properties, the firm carry out restoration and repair work at many ecclesiastical and heritage buildings. They now also manufacture hand-made timber casements alongside the stained glass business, allowing clients to completely transform existing or new openings. It also means customers can have pieces made from an inclusive single source.
Describing the range of materials available, Jason said: "With so many choices of glass texture, colour, lead came and painted or etched glass, there is an absolute plethora of possibilities to transform a property. We work attentively and sympathetically on archaic ecclesiastical commissions and are committed to creating bespoke designs where required."
For further information visit www.kentonbrauer.com