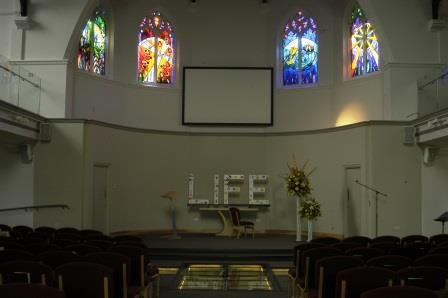 This set of four 2-light windows, designed by Essex-based Aura Visions, was set into the East elevation of Avenue Baptist Church, Southend on Sea, once the organ and choir pews had been removed. The entire building was reordered to allow for an ever-growing congregation which also required the replacement of the Baptistry Pool. This was decorated by Paul Siggins of the Mosaic Studio, Southend and is a stunning centre piece for the new interior.
The themes for the windows are 'Creation & Trinity', 'Easter & Pentecost', Baptism & Communion' and 'Mission, Justice & Peace'. Each window is colour coded to reflect its theme and the figurative elements were made large enough to be clear from ground level. There was much collaboration between Aura Visions and the design team from the church, who had a refreshing modernity about their ideas.
Particular design elements were carried through from the mosaic into the windows to tie the two together. The reordering of the interior brought about the replacement of the original metal balcony for clear glass, which reflects the stained glass windows in all directions as well as bathing the new large stage area in rainbows on sunny mornings.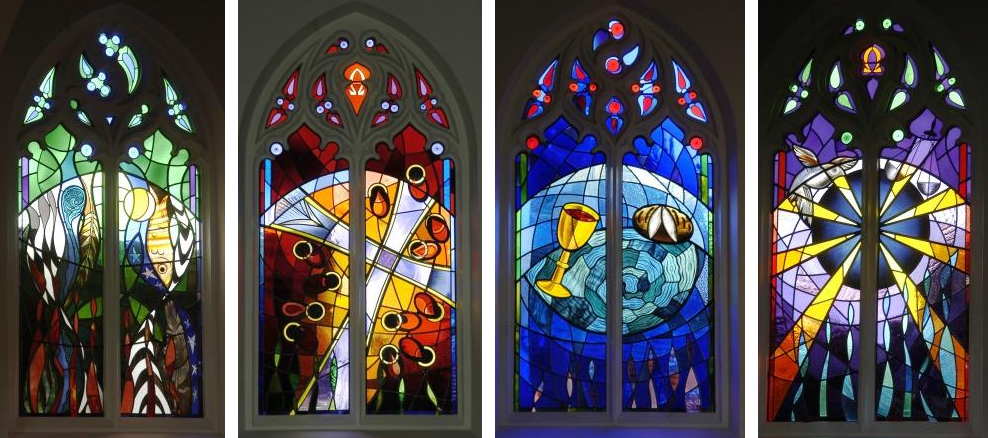 For further exciting projects from Aura Visions visit www.auravisions.co.uk