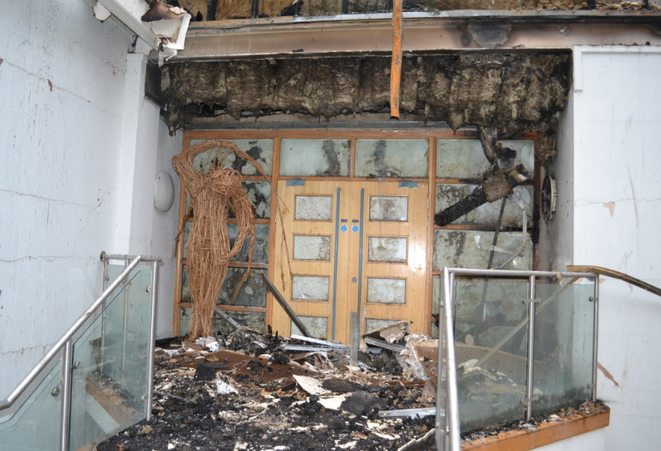 Since 2013 when the first pioneer FDIS Certificated Fire Door Inspectors qualified and started to offer their services to building operators there has been a marked increase in demand for the services of qualified fire door inspectors, installers, repairers and maintainers. This has in-turn led to increased demand for education and training and of course is a positive step in helping to make buildings safer in the event of a fire. Here, Neil Ashdown, general manager of the Fire Door Inspection Scheme, looks at fire safety law, the issues around fire doors in public buildings and the useful resources available to help building owners and operators meet their legal obligations.
The introduction of the 'Regulatory Reform (Fire Safety) Order 2005' has placed a legal responsibility on those having control of a building to ensure that all reasonable precautions have been taken to ensure the safety of people in or around the building. This legislation, often called the 'Fire Safety Order' refers to all buildings other than inside people's private dwellings and places a legal obligation on the building operator to appoint a 'Responsible Person' who must carry out a suitable and sufficient assessment of the risks that fire and smoke may present to the building, its occupants and users. This has led to numerous businesses offering their services as 'fire safety experts' but unfortunately not all are as expert as they claim to be resulting in prosecutions of building owners as well as the person or business claiming to be competent to provide fire safety advice, servicing and maintenance.
The Fire Safety Order places a legal duty on the Responsible Person to appoint as necessary such 'Competent Persons' to assist them in implementing fire safety measures so it essential that such competences can be identified so that building operators can access the right people to achieve a genuine improvement in their fire safety measures. Where building operators have failed to comply local fire and rescue services have brought prosecutions resulting in heavy fines, imprisonment and buildings being closed down. The courts take fire safety breaches very seriously indeed. So, when it comes to Fire Doors, as managers controlling buildings of historic and cultural importance: What can be done and what resources are available to improve fire safety?
Compartmentalisation is the most effective means of restricting fire and smoke spread thus reducing the risk to lives and property in a fire. It is provided by the fabric of a building in its walls, floors and ceilings that provide a natural barrier to fire and smoke. A fire door of course is potentially a large hole in the wall and therefore needs to self-close correctly and provide adequate fire and smoke separation when closed. This of course is obvious but inspectors often find fire doors that fail to close correctly and this must be addressed as a priority maintenance issue. Many doors in historic buildings were not constructed as fire doors and have no fire rating. It is with regard to identifying and providing best practice solutions to these issues where the CertFDI Fire Door Inspector can help.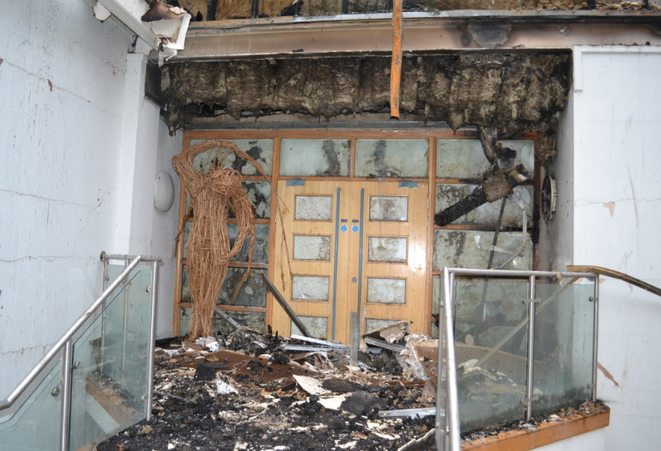 First of all we need to identify where fire doors are required to protect escape routes and also where fire doors are required to restrict fire and smoke spread to help keep people safe until they can be safely evacuated. A good example here would be buildings that provide accommodation, particularly with regard to vulnerable people. Fire doors may also be necessary to protect other parts of the building or valuable assets from damage caused by fire and smoke spread. Inspectors report that doors are often marked as fire doors even though they are not required to be fire doors and by identifying where doors do not need to be fire doors we can reduce maintenance costs. Every door in a building represents a maintenance issue and fire doors require more expert attention than ordinary doors so identifying a strategy for fire and smoke compartmentalisation is an important first step. Once we have identified the doors that need to be fire doors we need to ensure they are fit for purpose. This is a legal obligation, a social obligation and of course it is also good housekeeping and would, in a fire, repay any time and money spent many times over.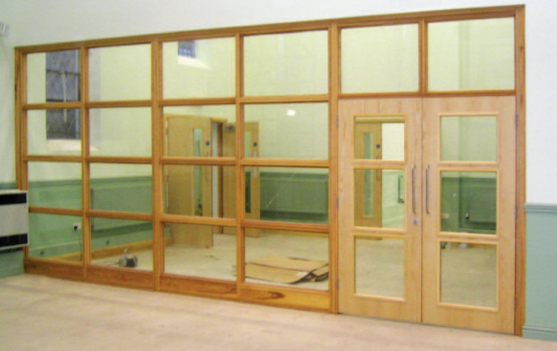 The CertFDI qualified Fire Door Inspector is the 'Competent Person' as referenced in the Fire Safety Order but as well as helping to provide legal compliance he or she can help where a building operator is unsure about the likely fire separation performance of doors at historic buildings. For heritage and conservation reasons it may not be possible to replace existing doors or alter their features. In such cases there are methods for upgrading fire performance using techniques that will retain the door's appearance. For example in many cases it is possible to conceal intumescent protection and self-closing devices so that the doors aesthetics remain unspoilt and over-veneering products such as 'Pyroplaque' or 'Fireface' can provide sympathetic upgrading solutions. The Inspector will be able to advise on suitable upgrading methods and recommend products with proven fire performance test evidence. Glazing is another issue where fire separation performance may be improved. It is essential that glass to fire doors and adjacent glazed panels is suitable and is installed correctly. Inspectors are often finding that the glass installed has only an impact rating and does not offer any evidence of fire performance. Recent years have seen improvements in fire performance and it is now possible to provide insulating glazing which limits heat transference as well as providing fire integrity. It is essential that glazing in fire compartments is correctly identified and where fire resistance is necessary the glazing system must be installed competently.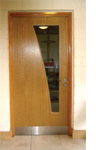 Door hardware is another key factor in a fire door's performance. Correct selection, installation and maintenance of hinges and self-closing devices for example is essential to providing adequate fire performance. Escape doors must have suitable and effective escape hardware and signage. Only by engaging competent persons with suitable qualifications can we be sure that fire doors and escape doors can provide adequate protection levels.
The CertFDI qualified Fire Door Inspector will have undergone a comprehensive education programme overseen by the Fire Door Inspection Scheme with a final examination and three-yearly assessments by the third party accreditation partner Exova WarringtonFire. The Fire Door Inspection Scheme is a joint initiative by the British Woodworking Federation Certifire Scheme and the Guild of Architectural Ironmongers, it provides education and qualifications to all types of persons responsible for inspection, maintenance and installation of fire doors. You may find your nearest CertFDI Fire Door Inspector at www.fdis.co.uk/inspector and for details about the education programmes www.fdis.co.uk
For further information, contact Neil Ashdown on 0844 801 1518, email info@fdis.co.uk or visit www.fdis.co.uk
A selection of members can be found in the directory here. Look for the FDIS logo.