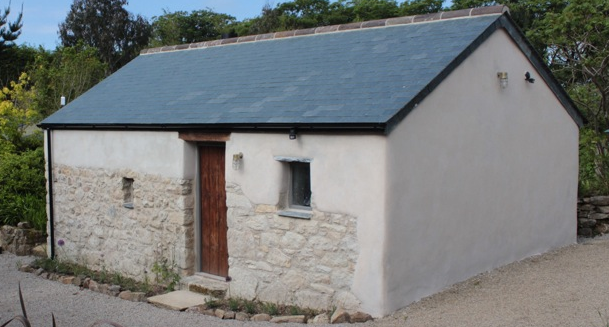 One of the universal building materials prior to the end of the 19th century was lime. Lime was present in various forms in almost every building, from limewash on the walls of cattle byres and cottages to the mortar used on cathedral and castle walls.
According to the British Lime Association (BLA), lime was burnt as early as the 4th century BC, when it was first used as a building material. Today, the universal term 'lime' includes quicklime, hydrated lime, milk of lime and dolomitic lime.

Symposium reflects new thinking on lime use

Masons and conservators across the UK and beyond are rediscovering traditional mortars through research, use and experience. They are moving away from the default specification of natural hydraulic limes for conservation works and are determined to practise like-for-like repair.

Click here for more information
Nowadays, says the BLA: "Lime is one of those usually unseen products that have a profound effect on our daily lives. It is used in many important industrial processes such as steel manufacture, the building/construction industry, in food production processes, agriculture and many environmental applications.... to name just a few."
In recent years there has been a blossoming of the use of lime in the repair and restoration of ancient buildings – often putting right the disasters caused by ill-advised repairs in the past using cement.
The BLA website outlines number of uses of lime in traditional building:
Limewash
Limewash is a traditional method of painting walls with a colour base that allows the masonry to breathe, providing both protection and aesthetic appeal.
Limewash is also widely used in agricultural buildings, due to its germicidal qualities coupled with its extreme ease of application and low cost.
Conservation
Buildings pre-1900 would not have been built with cement but with a lime mortar. Therefore, in order to conserve these buildings it is essential to use similar materials when doing so. To introduce cement or cementitious mortar would cause decaying due to the difference in chemical composition of cement and would inevitably result in irreversible damage. Hydraulic lime mortars, hydraulic lime plasters and renders and lime putty are therefore all used for the restoration of our built heritage.
The restoration of these buildings is often important for surrounding communities, providing them with lasting historical and cultural heritage, prolonging the buildings use as a tourist attraction, and often even increasing the aesthetic appeal of the local area.
For more information visit the BLA website at www.britishlime.org.
YOU CAN FIND A LIME SUPPLIER OR CONTRACTOR IN YOUR AREA IN OUR ONLINE DIRECTORY HERE
Does hydraulic lime always give us the result we want?
When talking about the use of lime, the 'conversation' regarding hydraulic sets must have been going on for millennia – ever since, in fact, lime mortar became a thing. Here, Harry Cursham of Vivus Solutions Ltd postulates that hydraulics aren't all that they seem.
Click here to read the full story.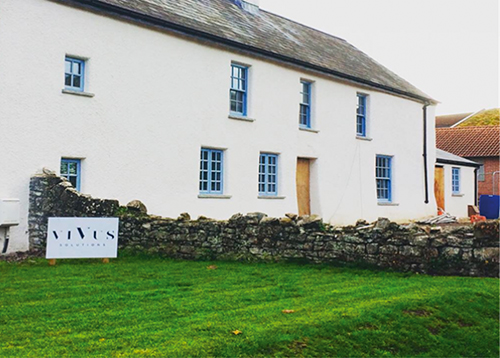 Preserving traditional buildings: it's a matter of application
At Suffolk-based Rickards Period Plastering Ltd they feel fortunate to have the opportunity to be working in an area of the country that has a wealth of unique architectural design, using what they feel is a special product: the chalky lime plaster and render. Here, Mike Rickards shares his enthusiasm for traditional plasters.
Click here to read the full story.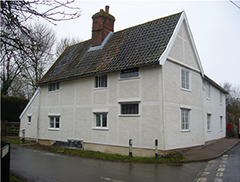 Perfect period plaster for your church and listed building
Based in Bury St Edmunds, Rickards Period Plastering provides a professional application of traditional plastering techniques throughout the county. Whether working within the precious historic environment or on a unique architecturally designed new build they endeavour to provide a skill set and finished product of the highest quality.
Click here to read the full story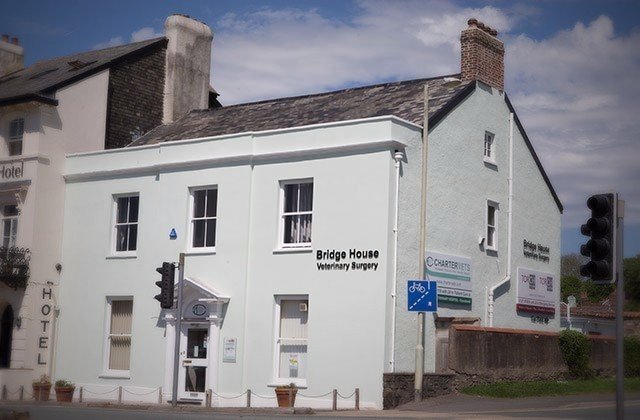 Prestigious building restored to former glory by Heritage Cob & Lime
Bridge House Veterinary Surgery had a cement render which, over the years, had begun to crack and allow water ingress, the front elevation suffering the worst . Internally there were damp issues whilst outside some major problems were discovered that needed remedying. On removing the external cement render, specialists from Heritage Cob & Lime found a few challenges that needed immediate attention.
Click here to read the full story
Bryan Williamson & Daughters
A family business with a unique philosophy of working sympathetically with heritage and listed buildings, Bryan Williamson & Daughters has restored over 200 houses and listed buildings back to their former glory. Combining extensive experience in traditional construction methods and craftsmanship with knowledge of specialist techniques, they provide their clients with practical advice whilst offering a wide range of services.

Images show Bryan at work on a Georgian Grade One-listed property, Portland House, designed by Robert Adams. Bryan is restoring a chapter from the past into a volume for the future. All the lime plaster is being restored and repainted in the original colours.
Bryan, based in and around London, is an expert in the restoration field and when he is not 'hands on' gives lectures on the subject at shows and exhibitions.
To find out more about his lime plaster and other services visit www.bwilliamsonanddaughters.co.uk
---
This large seventeenth century timber framed barn at Dunwich Farm, Stevenage was converted into a pair of semi detached properties by Anglia Lime Company.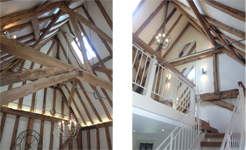 FibreChalk was applied in one coat to a background of Savolit Woodwool board fixed between the exposed timber frame.
There are a number of major advantages to this system. Firstly, FibreChalk mix is based on the ingredients of medieval plasters and so historically and aesthetically contemporary with the type of building.
The ability to apply the plaster in one coat directly onto the board, without the need for meshes or backing coats offers a major labour saving over other lime plaster systems.
The finished plaster dries to a visually pleasing pale cream and does not require decorating, this is a huge advantage, especially in a vaulted roof space where access for redecorating would be difficult and costly.
For more from this company visit their website www.anglialime.com