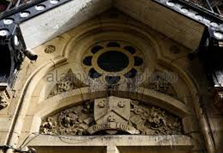 Church and listed building owners - and managers for large property owners in the sector such as Historic England, the Public Monuments and Sculpture Association, and the National Trust - understand property wear-and-tear very well. In fact, those who manage such facilities must budget for repairs and maintenance of their grounds and buildings each year.
A problem that carers and keepers of these buildings may not predict is bird damage and liability caused by pest bird infestation. However, there is one very important difference between a lot of other hazards and a pest bird problem - whilst you cannot predict it, you can prevent your bird problem!
Pest Bird Damages
Pest birds leave their droppings on walkways, walls, rooftops, equipment, and more. Bird messes contaminate pond water and clog drainage vents. Birds seem to play target practice with cars parked in outdoor lots. But it is not just an issue of filth – pest bird damage is actually a serious problem for listed buildings, churches and statues.
Bird droppings are the most common issue, causing walking surfaces to become slippery and dangerous. Droppings are also linked to over 60 transmissible diseases (some even potentially fatal). In outdoor eating areas like picnic tables, sanitation can also be a real concern.
Droppings are extremely corrosive and can cause irreversible damage to property and equipment. When the messes are not quickly washed away, the droppings dry out and turn to salt and ammonia; when they later come into contact with rainwater, small electrochemical reactions take place that speed up the rusting process. This acidic substance can eat away at paint, concrete and metal, and can even cause structural failure.
Birds themselves can also interfere with the safety of the building causing fires, pecking holes in roofing, interfering with power cables, while significantly increasing the need for repairs and replacements that cost time and money.
Pest Bird Prevention
While some changes such as altering the landscaping may help, greatest success comes with a combined approach including bird deterrents. When choosing a bird control solution for your facility, look for a company that offers products that are humane and eco-friendly. The use of harmful chemical pesticides can put customers and workers in danger, while using traps or poisons that harm or kill pest birds is inhumane, messy, and unsanitary – which is very bad for visitors and your reputation.
The ideal solution is to use green bird control products. These include bird spikes, netting, visual scares, and sonic/ultrasonic devices that deter birds from roosting in specific areas, as well as electronic devices that can also rid the premises of rodents, bats, spiders, and other pests by way of a bonus.
Investing in bird control will save precious funding otherwise spent on cleanup and repair.
By allowing birds invade your building you can put occupants and visitors at risk for various health issues. In order to keep birds from invading your personal and professional space, it's important to recognize how they can invade your building and what you can do about it.
Ventilation units
Though they typically cannot enter your building through vent itself, if birds nest around the ducts, they can still have a terrible impact. Parasites and particles from their droppings, nesting material and food can cause serious damage to people and property alike.
Hazards: blockages, Stench and decay of dead birds, loose birds in the building, chemically damaging bird droppings personal health issues (bird fancier's lung, tuberculosis, allergens, etc.), and parasites (which can eat cloth and cause health problems in people and pets)
Solution: Electronic bird repellents, Bird netting,
Chimneys
Often found in listed buildings and some churches. When you're not using it, these neighborhood pests may choose to utilize this unused space. One day when you least expect it, you just may come face-to-face with a fowl intruder.
Hazards: Loose birds in the building, bird droppings (which, when dried out by heat, can turn into a toxic particulate), personal health issues, and parasites
Solutions: Bird spikes, bird gels and taste aversions
Gutters And Drains
Wild birds also make themselves comfortable in drains and gutters, which can cause water backup during storms and, in turn, water damage both inside, to precious objects, and outside the building.
Hazards: Indoor and outdoor water damage and surface corrosion from bird droppings (gutters, vehicles, etc.)
Solutions: Electronic bird repellents, bird gels and taste aversions

False Economy
Birds can cause irreversible damage to building surfaces costing tens of thousands of pounds worth of damage. Sometimes the structures, such as statues, are irreplaceable.
Employing a professional expert for advice and remediation of the problem will save money, prevent health problems and preserve your beautiful building.
"If you think hiring a professional is expensive, try hiring an amateur" Red Adair.
You can find an expert near you in our online directory here.
Protection against pigeons - and other pest birds
Pigeons were roosting within the circular windows of this property in Sutton - the first photo shows where they left fouling marks - and so the owners called in London-based Microbee Bird Control Ltd who are specialists in a wide variety of bird control systems.