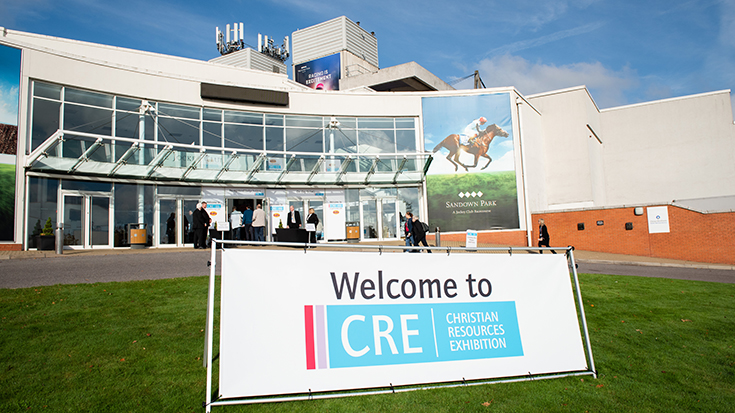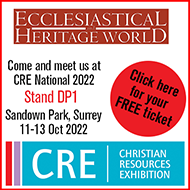 The next incarnation of Christian Resources Exhibition will be CRE National 2022 – taking place at Sandown Park in Esher, Surrey, on 11-13 October.
Sandown Park is a great venue for Europe's leading annual exhibition of Christian resources. Just 15 miles from central London, the venue is easily accessible by rail (25 minutes from London Waterloo to Esher) and road (M25 and A3). Parking is free for exhibitors and visitors.
Said event organiser Steven Goddard: "We look forward to welcoming thousands of people, for whom Sandown Park is familiar and easy to access. Join hundreds of local church leaders, officers and anyone involved in Christian work and ministry, in a day of discovery – of new ideas and resources, specialist advice and inspirational worship and teaching.
"Around 200 organisations will be waiting to meet you, offering everything from banners to Bibles, heating to seating, puppets to pulpits. CRE provides you with a great context for networking and creative thinking. It really is your one-stop shop for church supplies, resources and ideas."
The exhibition will be open from 10am to 5pm on 11 and 12 October, and from 10am to 4.30pm on 13 October. Getting there is made even easier – and greener – by a courtesy bus that will be available between Esher railway station and Sandown Park racecourse during the opening times.
To book a stand at CRE National 2022, which runs from 11-13 October, call Carol on 0161 250 2467, email This email address is being protected from spambots. You need JavaScript enabled to view it., or James on 0161 250 2306, email This email address is being protected from spambots. You need JavaScript enabled to view it..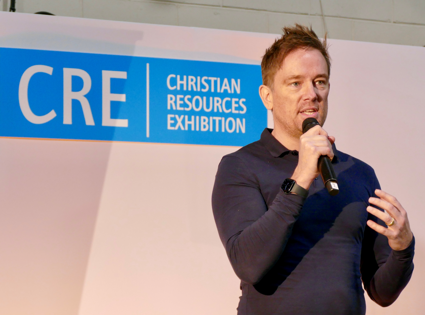 As Covid-19 restrictions are lifted churches will have to learn a whole new way to present Sunday worship. So said Simon Thomas (pictured), a former Blue Peter and Sky Sports presenter, at the opening of the Christian Resources Exhibition at Westpoint, Exeter (Feb 23-24).
'When you are leading a service or preaching online it is difficult to decide whether to look at the congregation or the camera but unless you look at the camera those watching cannot feel fully involved,' said Simon. 'If you forget about your online audience very soon you will not have one.'
Helping churches develop broadcasting skills was one of the key themes of the exhibition with many visitors attending practical seminars on related subjects. Simon also talked about the death of his wife, Gemma, from acute myeloid leukaemia (AML) – four days after being admitted to hospital in 2017. Subsequently, he launched the Gemma Thomas Fund to raise awareness and money for research. He is now president of Blood Cancer UK.
'I want to make sure that more people are made aware of the signs and symptoms of all blood cancers so we can improve early diagnosis and give people a fighting chance,' he said. Simon paid his first visit to CRE at Sandown Park as a 12-year-old, taken by his late father, a vicar. 'The event has advanced so much,' he said. 'There is something here for every aspect of church life. It really is a must for Christians.'
CRE South West attracted 1521 people (1257 visitors and 264 non-visitor attendees) – numbers which delighted the organisers after the impact of Covid-19. 'Running an event in the face of a pandemic is a nerve-wracking experience so we are grateful to all our loyal exhibitors and visitors,' said CRE owner Steve Goddard. 'In fact, the atmosphere last week was as upbeat as we have ever known with a sense of release and purpose after two years behind closed doors.'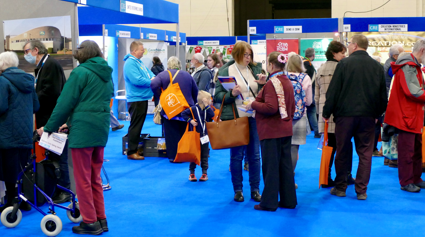 'It was good to be back together again and exhibit our plane!' said MAF's Kevin Crook. 'We were so encouraged to see a large number of people showing real interest in our work, many of whom had never even heard of us.'
Mike Frith of OSCAR said: 'We had a steady stream of visitors through Mission on the Map and many great conversations.'
Tim Moyler of Agapé UK, said: 'There is no other way we could have reached so many leaders and organisations in just two days. Many said our Living & Telling course was just what they were looking for. Our national director was amazed at how many unexpected and fruitful conversations she had.'
'We were genuinely delighted with the reception we received,' said David Saint of Action Planning. 'Although it was inevitably quieter than the national exhibition, we had a large number of very positive conversations. I'm pretty sure we came away with more leads from two days in Exeter than three days in Esher – and we were pretty pleased then, too!'
'CRE is always an excellent platform for meeting quality contacts,' said Chris Dunphy of ChurchEcoMiser. 'Although the past few years have been anything but "normal", the team know how to attract the right people and this was one of the best exhibitions we have ever done.'
These positive comments were endorsed by visitors.
'I just want to say a HUGE thank you to all. The event was very well set out and organised, the seminars engaging and informative,' said Liz Moore, a life coach. 'It was lovely to network with people I hadn't seen for a long time – and new people, too. Well done, CRE!'
Rev David Coffey, of Upton Vale Baptist in Torquay, told BBC Radio Devon: 'It's fascinating to see the number and range of exhibitors at CRE. It reminds you how churches of all denominations form a huge marketplace. Gone are the days churches can go it alone.'
Simon Preece, church warden at St Andrew's, Kenn in Devon, said: 'I was so excited and almost overwhelmed by it all with people so willing to exchange ideas.'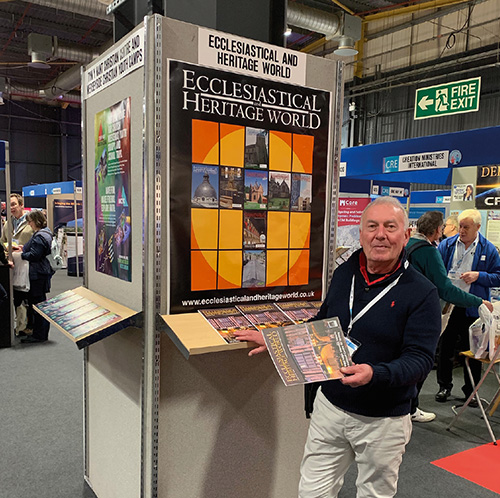 Richard Shepherd, business development manager at Ecclesiastical and Heritage World (pictured at the magazine's stand at CRE North), is a regular visitor at CRE exhibitions throughout the country. He said: "These events are always worth a visit, even if only for the pleasant and friendly people there. The usual variety of stands all have one thing in common: the Christian spirit and goodwill. My experience is always of very professional and trustworthy experts in their respective fields."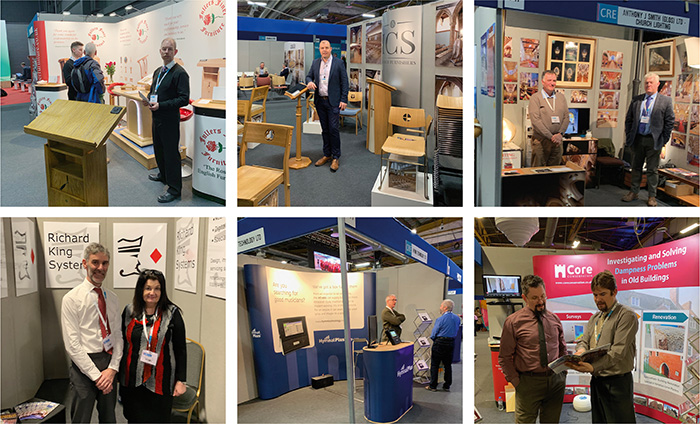 Over the years the CRE has provided church organisations with a focal point to source goods and products ranging from building solutions and furniture to lighting and sound systems, vestments and plate. Many exhibitors became regular fixtures, acting as a network of service providers. Its many quirky features included a series of 'Clergy on the Catwalk' fashion shows of vestments and the unforgettable My Church Needs One of Those competitions – the McNoot Awards.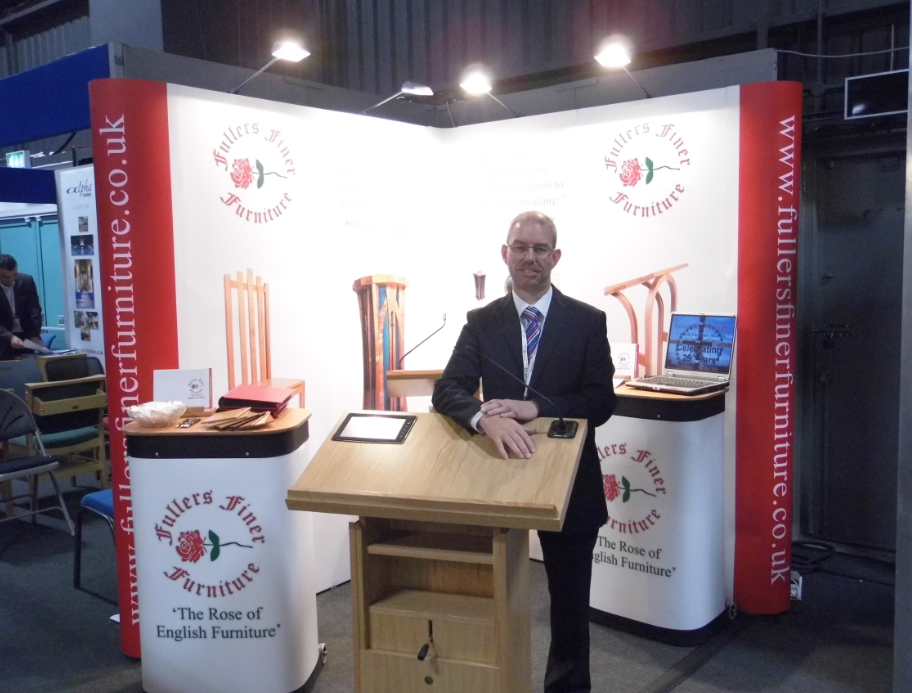 Among CRE exhibitors offering solutions to practical questions is Fuller's Finer Furniture, who travel from Weston-super-Mare to demonstrate a range of specialist church furnishing.
The company's managing director Paul Fuller (pictured right) told Ecclesiastical and Heritage World the shows are a success and an "opportunity to have good conversations with existing and new customers".
Fullers have been making their renowned height adjustable Canterbury and York Lecterns since 2001. Demand for these popular lecterns continues and Paul puts this down to a number of factors - click here for the full story.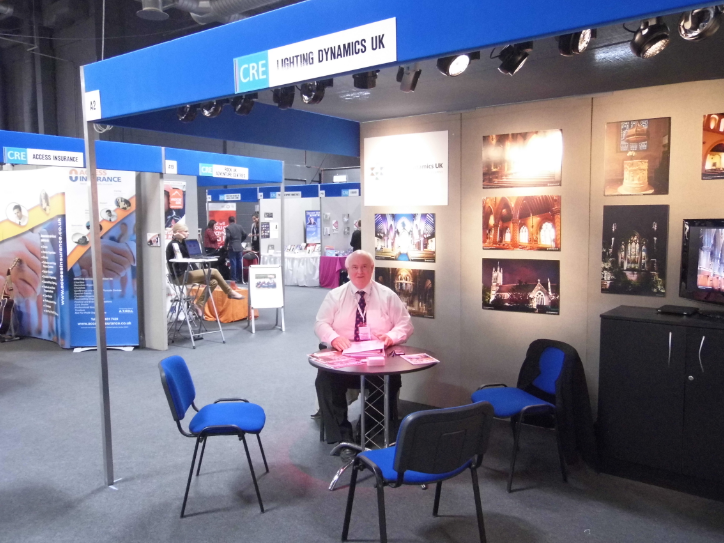 Pictured (right) is Gerry Browne of church lighting specialists, Lighting Dynamics - unusually alone at his stand as every time we tried to get to speak to him he was busy talking to interested visitors and showing them examples of his spectacular church lighting projects.
Indeed, Lighting Dynamics are regularly featured on the front cover of Ecclesiastical and Heritage World including a lighting project at the beautiful St Giles RC Church in Staffordshire. Gerry commented: "I believe that as one of Augustus Pugin's top UK building projects, there has been a considerable amount of architectural interest in the feature".
In its 35 plus years of existence, Christian Resources Exhibitions has grown to become one of the most important ecumenical events in the Christian calendar. There is no other exhibition in Europe that features so many organisations from such a broad church.
For more information on either upcoming CRE events, and to book stands, contact Carol on 0161 250 2467 or James on 0161 250 2306.