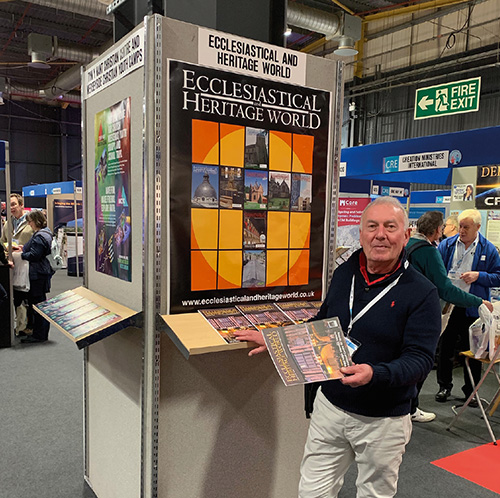 'What a wonderful exhibition – we have discovered so much here. Please, please, please come back to Manchester soon!'
That was the overwhelming feedback from visitors to CRE North in Manchester in March. In fact, such was the warmth of the welcome as the show returned to the city that it isn't a question of if, but when, the exhibition will be heading north again, according to the organisers.
The CRE juggernaut now moves back to Sandown Park for CRE National on 15-17 Oct. More than three-quarters of the stands have already sold, so organisers Steve Goddard and Brett Pitchfork are urging potential exhibitors to book soon to avoid disappointment. The next regional show will be CRE Midlands, at Stoneleigh Park near Coventry on 4-5 March next year.
Richard Shepherd, business development manager at Ecclesiastical and Heritage World (pictured at the magazine's stand at CRE North), is a regular visitor at CRE exhibitions throughout the country. He said: "These events are always worth a visit, even if only for the pleasant and friendly people there. The usual variety of stands all have one thing in common: the Christian spirit and goodwill. My experience is always of very professional and trustworthy experts in their respective fields."
There was a whole cohort of exhibitors specialising in building maintenance and hardware. They included specialists in heating installation, damp-proofing, disability access and building design, as well as furniture manufacturers, sound, AV and lighting designers and installers, staging manufacturers, software developers and office equipment suppliers. On hand to offer advice on capital projects were architects, insurance companies and financial advisors.
A concerted marketing campaign across a range of media – including peak viewing coverage on BBC's North West Tonight – paid dividends, as over 2,300 visitors joined 450 exhibitor staff to push attendance figures past the number who attended the last CRE North by around 300. And, of those who pre-registered, one in two were visiting their first-ever CRE.
A highlight of the event was a performance of what has become the 'CRE Song', All Kinds of Everything, by 50 children from St Leonard's C of E Primary School in Padiham, near Burnley. They performed the song in front of Dana herself, who won the Eurovision Song Contest with the original version all those years ago.
After the performance, they spent the day visiting the rest of the exhibition, which included a special puppet show. There were also tours of the Compassion Experience and Embassy Bus for rough sleepers, packing food with Feed the Hungry, games in Scripture Union's football cage and simulated flights at the Mission Aviation Fellowship stand.
"They had the day of their lives," said headteacher Bev Holmes.
True to its own proposition of 'innovation and inspiration for the whole congregation', CRE introduced several new ideas for the Manchester show, including an inflatable theatre – which deadened the noise spilling onto the show floor – and two open-access seminar areas with those attending wearing 'silent disco' headsets.
For the first time, there was a Study Zone, where eight theological colleges came together to promote the benefits of further learning. Plus, as might have been expected, the most attended seminar was Bridging the Brexit Divide, after which visitors were invited to post their prayers on a Brexit Prayer Wall!
In all, over 150 exhibitors - some of whom are pictured below - made CRE North one of the most colourful and interactive events to date.
Over the years the CRE has provided church organisations with a focal point to source goods and products ranging from building solutions and furniture to lighting and sound systems, vestments and plate. Many exhibitors became regular fixtures, acting as a network of service providers. Its many quirky features included a series of 'Clergy on the Catwalk' fashion shows of vestments and the unforgettable My Church Needs One of Those competitions – the McNoot Awards.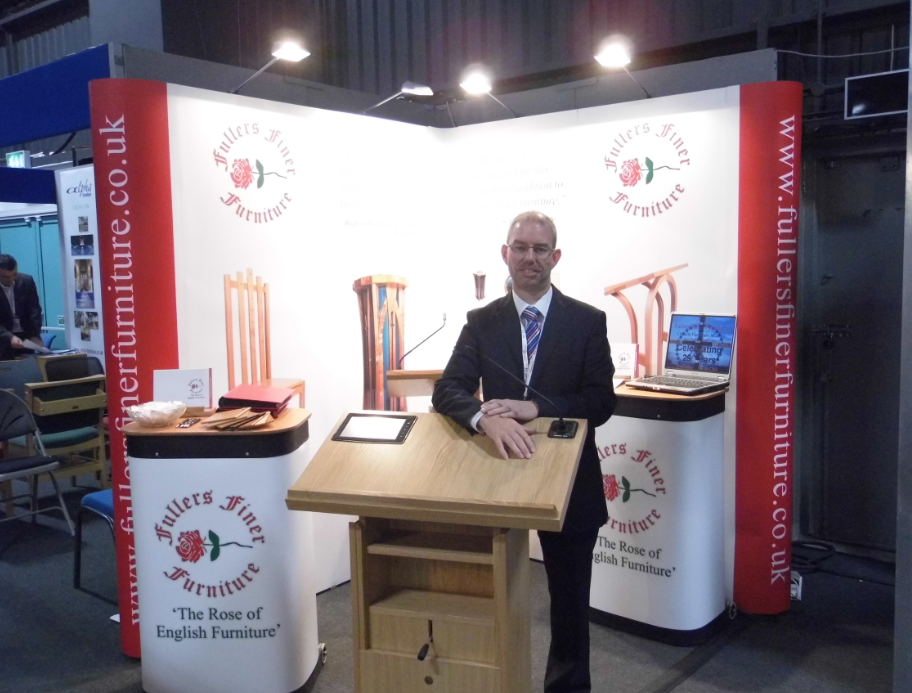 Among CRE exhibitors offering solutions to practical questions is Fuller's Finer Furniture, who travel from Weston-super-Mare to demonstrate a range of specialist church furnishing.
The company's managing director Paul Fuller (pictured right) told Ecclesiastical and Heritage World the shows are a success and an "opportunity to have good conversations with existing and new customers".
Fullers have been making their renowned height adjustable Canterbury and York Lecterns since 2001. Demand for these popular lecterns continues and Paul puts this down to a number of factors - click here for the full story.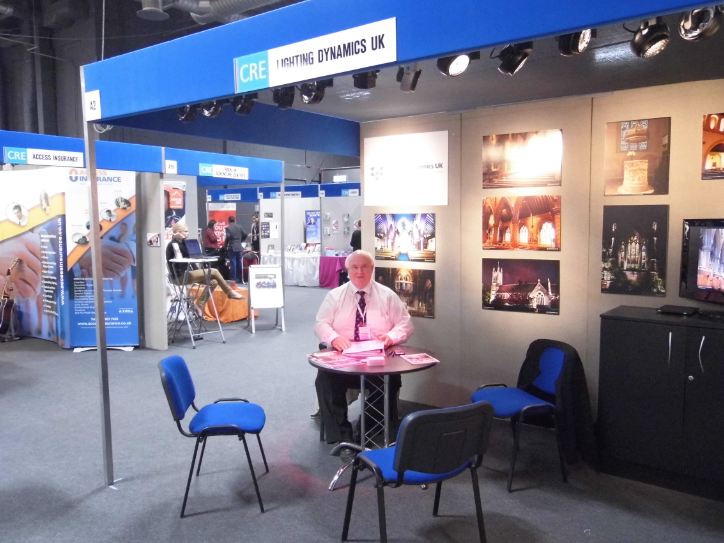 Pictured (right) is Gerry Browne of church lighting specialists, Lighting Dynamics - unusually alone at his stand as every time we tried to get to speak to him he was busy talking to interested visitors and showing them examples of his spectacular church lighting projects.
Indeed, Lighting Dynamics are regularly featured on the front cover of Ecclesiastical and Heritage World including a lighting project at the beautiful St Giles RC Church in Staffordshire. Gerry commented: "I believe that as one of Augustus Pugin's top UK building projects, there has been a considerable amount of architectural interest in the feature".
In its 35 plus years of existence, Christian Resources Exhibitions has grown to become one of the most important ecumenical events in the Christian calendar. There is no other exhibition in Europe that features so many organisations from such a broad church.
For more information on either upcoming CRE events, and to book stands, contact Carol on 0161 250 2467 or James on 0161 250 2306.