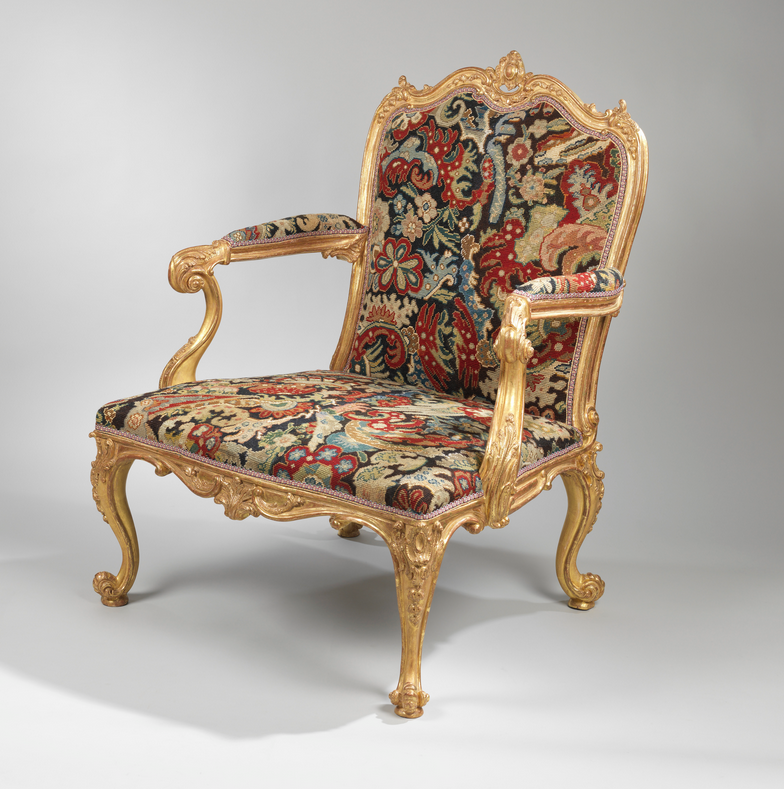 This is one of a pair of George III Carved Giltwood Armchairs, in the manner of Thomas Chippendale, Circa 1765.
The chairs are closely related to plate XVIII in the first edition of Thomas Chippendale's The Gentleman & Cabinet-Maker's Director published in 1753. Described as French Chairs, Chippendale notes that this and the following three plates are 'Eight Designs of French Chairs which may be executed to advantage.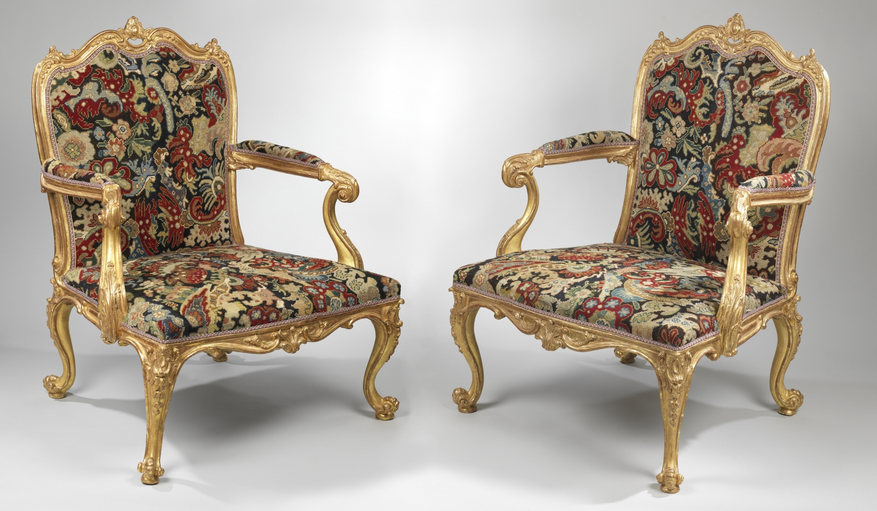 Some of them are intended to be open below at the back: which makes them very light without having a bad effect. The dimensions are the same as in Plate XIX. Only that the highest Part of the back is two feet, five inches, but sometimes these dimensions vary, according to the bigness of the rooms they are intended for. A skilful workman may also lessen the carving, without any prejudice to the design.
Both the backs and the seats must be covered with tapestry, or other sort of needlework'. The richly curvilinear form of the present chairs clearly illustrates the designer's familiarity with the fashionable French rococo style which has been boldly interpreted by the chair-maker and carver who have ornamented the molded serpentine and scrolled frame with acanthus leaves with festoons of husks.
Similarly the cupid-bow crest rails are ornamented with leaf clasps and husks and pierced at the center with a cabochon ornament within ruffled foliate scrolls. Covered in contemporary 18th century needlework.
Provenence
Part of a suite of twelve chairs reputedly supplied to Robert Clive, Ist Baron Clive of Plassey (1725-1774) for Walcot Hall, Shropshire. Robert Clive better known as 'Clive of India', made his fortune as a brilliant military tactician protecting the interests of the East India Company in India over three periods: 1744-53, 1755-60, and 1765-67 and upon his return to Britain between these periods he furthered his political ambitions by purchasing large properties.
He married Margaret Maskelyne (1753-1817) in 1753 in Madras and returned to England with a fortune of £40,000 (made from his investment in diamonds), and paid off his family debts including the mortgage on the family seat, Styche Hall.
He returned to India after a failed foray into politics and his victory at Plassey established British control in Bengal. Upon his return to England, in 1760 he had amassed a fortune of £300,000 and was made Baron Clive of Plassey. By 1761 he was elected MP for Shrewsbury and by 1762 was made Knight of the Bath. His houses and properties were vast including an Irish estate, renamed Plassey.
He bought Lord Montfort's 7500 acre estate in Shropshire for £70,000 in 1761 and the house at Walcot Hall and its estate of 6000 acres for £92,000. In 1763 Lord Clive commissioned Sir William Chambers (d.1796), architect to King George III, to redesign the house entirely.
Chambers spared no expense and employed master craftsmen such as the carver Sefferin Alken and the ornamental plasterer Joseph Wilton to create the interiors. Intriguingly, Chambers' work at Walcot coincides with another of his commissions, Pembroke House, where he is known to have collaborated with Thomas Chippendale.
The two men worked together again in 1774 when they were commissioned by Lord Melbourne for Melbourne house. Lord Clive and his wife Margaret rented a very fashionable town house at 45 Berkeley Square, London from Lord Ancram, eventually purchasing it from him for £10,500.
After a brief return to India (1765-67), his wealth increased to £400,000 and he continued to purchase estates including Oakley Park and Okehampton from Lord Powis.
He demolished the old Palladian house of Claremont and commissioned Capability Brown and Henry Holland to build a new neoclassical house on the former site. At the time of his death, his estate was worth over £500,000, leaving his family well established, his eldest son eventually becoming governor of Madras and Earl of Powis.

To find out more about BAFRA member W Thomas Restorations Ltd visit www.thomasrestorations.com and for the beautiful range of antiques on show from Frank Partridge Antiques visit www.frankpartridge.co.uk