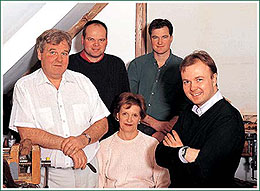 Established in 1963 Wiltshire based family business William J Cook & Sons, who have been restoring fine furniture for two generations, are celebrating over 50 years in the buisiness.
The company was established by Bill Cook and his reputation for outstanding quality of work quickly spread. Since those early days clients have included our own Royal Household, Foreign Royalty, the Government, museums, leading collectors, dealers and private individuals. Whilst still retaining a London workshop the business is now based in Marlborough, Wiltshire.
With the cabinet making, machine and polishing shops, few other restorers are able to match their facilities. After training at the London College of Furniture, Bill Cook's three sons are now actively involved in the business and their own children are being encouraged to pick up the tools with a view to taking the family tradition through to a new third generation.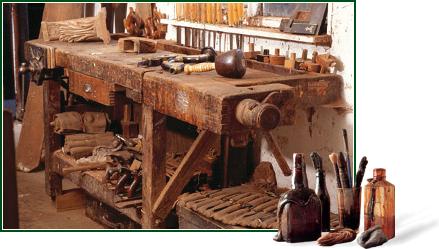 The services carried out are many and include cabinet making, gilding, carving, polishing, lock repairs, leathering and upholstery. Also undertaken is an on site waxing service in which restorers will visit your home and professionally wax all the furniture in your collection. Being a true family business means that every restoration commission undertaken is done so with great care as the name Cook has become associated with quality of worksmanship and courteous service. An extensive in-house library, over forty years experience at the highest level and access to furniture archives ensure that any restoration carried out is true to every detail. Indeed, they have recently written what is considered to be the definitive book on the subject of antique furniture restoration. With over one thousand photographs it covers every aspect of the subject. Click here for more information on The Complete Guide to Repairing and Restoring Furniture.
Virtually all of the restoration work is still carried out using eighteenth and nineteenth century tools, indeed even some of the machine tools on the premises are antique, and their band saw was used in the construction of the panelling for the Queen Mary.
The importance of having furniture restoration carried our by competent, qualified craftsmen cannot be stressed enough, for once a piece has been badly restored and the surface and patination spoilt by over zealous cleaning, the damage cannot be rectified. It is for this reason that one should always seek a restorer who is a member of The British Antique Furniture Restorers Association (BAFRA) and W J Cook are proud to be amongst their oldest members.
For further details or an estimate, which is always given in writing before commencement of any work, please do not hesitate to contact them or visit the website at www.wjcookandsons.co.uk