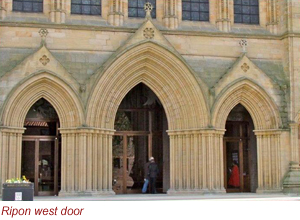 York restorers and conservators Andrew G Podmore & Son were delighted to be entrusted with the conservation of the great west doors at Ripon Cathedral. The work was carried out under the expert guidance of architect Oliver Caroe.
As with all restoration, it was paramount that the evidence of the timber's age on the doors' surface be conserved and this involved careful cleaning of the internal surfaces which can be seen as a matrix frame construction in a harlequin pattern. When the frame was cleaned and the accumulated soot and dust removed, remnants of an original waxed finish were found.

Conserving this finish with new applications of a beeswax polish gave the interior face a very attractive appearance, whilst retaining the all-important aged patina.

The external door surfaces, constructed from inch and a half oak boards, were extremely dirty and weathered by prolonged exposure to the elements and pollution. After cleaning with a dry method, traces of an old reddish pigmented paint layer were discovered in the higher, more sheltered parts of the door and it was decided to preserve this and protect the ancient timbers with a traditional oil finish. Subsequent coats will be applied as part of an on-going maintenance programme.

The final magnificent appearance of the six west doors truly compliments the superb craftsmanship of the entire Narthex project and the visionary blend of ancient woodwork with modern bronze glazing is a tribute to the cathedral and the architect.

Other important work carried out this year by Podmores include Manchester Town Hall, Newcastle St Nicholas and Christchurch gate at Canterbury Cathedral.

• For further information visit www.agpodmore.co.uk, call 01904 799800 or email enquiries@agpodmore.co.uk.