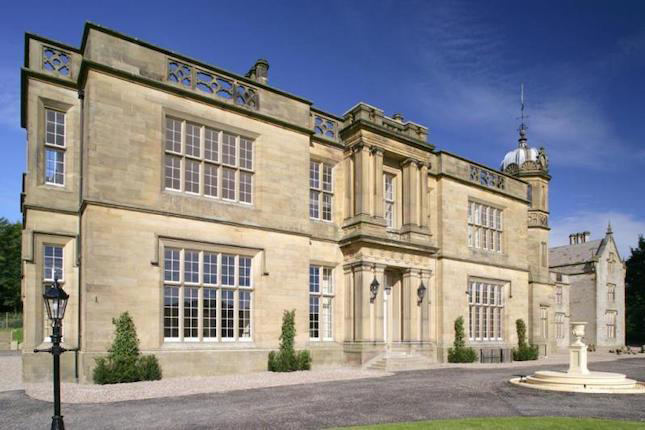 The restoration works at Eshton Hall which were carried out throughout 2017 have been short-listed for the RICS Awards 2018 – Yorkshire & Humber in the Building Conservation Category.
Grade II* Listed Eshton Hall has existed on these grounds in North Yorkshire for hundreds of years, possibly as far back as 1200's. Situated on the outskirts of Gargrave in North Yorkshire, the main hall was burnt to the ground in late 1500's with the new main building and its impressive tower built in early 1600's.
Eshton Hall as it stands today, was rebuilt in 1825-6 on the footprint of the old Hall from designs by the late George Webster (Architect) and is designated Grade II Listed.
It has served as a stately home for many years and as a school during the 2nd World War, going on to become an independent school in 1949, up until its closure in 2002 as a nursing home. Bought by a development company around 2003, planning permission was granted and a conversion carried out forming 13 apartments and 5 cottages.
In Autumn 2016, Aura were appointed Principal Contractors by the Eshton Hall Management Company to undertake a large restoration and conservation project.
The project Architects and Contract Administrators were Crosby Granger Architects, based in Kendal.
The project in brief included:
Complete overhaul of the main hall roof with patch repair of northern range
Fire rating and establishing fire compartmentation of loft spaces
Below ground surface drainage system
Repointing and stone repairs
Structural repairs to timber trusses and associated timbers
Insulation of ceilings to loft areas
Roof top surface water drainage systems to new rwp system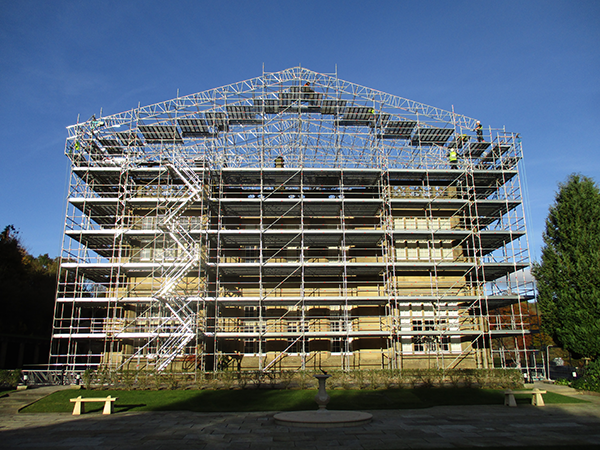 Due to a complete overhaul of the main hall roof, the entire hall had to be encapsulated in a temporary roof covering. This complex scaffold was carried out by Manor Scaffolding Ltd from Buxton.
This enabled Aura to carry out the full replacement of slate roof coverings and lead coverings to the main hall and creation of a central code 8 lead flat roof around the central atrium.
The slates from the Main Hall were replaced with new Burlington slates from Burlington Stone in Cumbria and the salvaged slates were used to repair the Range.
The rainwater system and goods were also replaced to increase the outflow capacity, discharging into new downpipes via reconfigured lead gutters and new below ground water drainage where necessary.
Bespoke joinery repair works were carried out to the timber lanterns, window frames and cills replacements whilst internal timber panelling was replicated to match existing and replaced due to water damage.
Additionally, within the roof structure, splice repairs were undertaken to the joist ends, rafter replacements and the creation of a new timber framework to form the new lead roof configuration.
Key challenges overcame on the project included;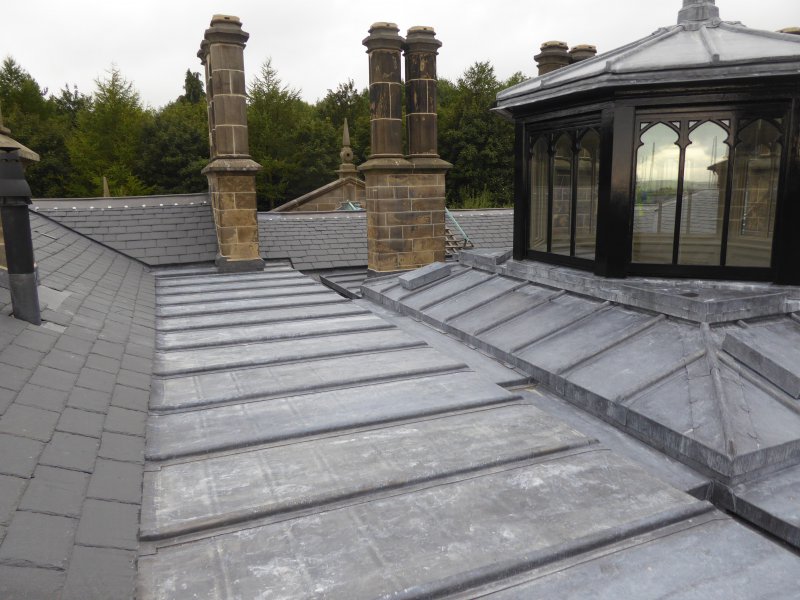 Highly complexed roof structure requiring traditional repairs. Aura ensured that they appointed their most experienced and (heritage) skilled workforce to the project whom remained on site for the entire duration, all of which are specialist traditional craftsmen.
Requirement of traditional materials including lead, slate, stone and NHL lime mortars. As Aura specialise in heritage work they already have very strong pre-existing relationships with traditional material suppliers and with quarries ensuring that commitment was made to the project from the onset.
Overall the project was a huge success; the conservation principles of sympathetic repair and minimal intervention were adopted throughout the programme to deliver a beautifully restored building.
The RICS category winners and Project of the Year winner will be announced at the RICS Yorkshire and Humber Awards Ceremony and Dinner on 11th May 2018 at Leeds United Football Club.
For further information visit www.auraltd.co.uk