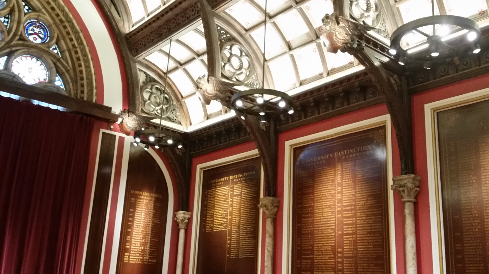 Dulwich College in south London was established in the 17th Century and is famous not only for its superlative academic provision, but also for its historic buildings including the impressive Great Hall. The Hall is the centrepiece of the school community and was designed around 1870 by Charles Barry, whose father designed the Houses of Parliament.
Recently Dulwich College's COO Simon Yiend led an initiative to reimagine the lighting design in the Great Hall to help to restore its original perspective. This included making this spectacular room's lighting more appropriate to its heritage and also more efficient. Bespoke lighting specialist Dernier & Hamlyn was asked to utilise the knowledge its engineers and craftsmen have built up over many years to propose an appropriate solution. They advised installing the light fittings on rods that were attached to the ceiling at the same points as Barry's gas lights to minimise the effect on the building's structure while optimising lighting levels.
Dernier & Hamlyn manufactured twelve decorative chandeliers some 1200mm in diameter in which LED fittings supplied by Light Projects were fitted. The chandeliers were hand finished in brushed bronze by Dernier & Hamlyn's artisan team so that their colouring complements the Great Hall's woodwork.
Light Projects' fittings incorporate swivel housings that can be adjusted to highlight the room's many noteworthy features, including academic honours boards and architectural features such as the impressive vaulted ceiling and historically important gargoyles.
Jim Hudson Director of Projects & Programmes at the College says: "The new lighting in the Great Hall has been universally well received. From a practical perspective, the LED lamps reduce energy usage and require changing much less frequently than the previous tungsten lamps. While from an aesthetic point of view they are a world apart from the old lighting that was installed in the 1950s. Not only does this fantastic room now have the lighting it deserves, the architectural and historic features housed in it have they respect they warrant too."
For further information visit www.dernier-hamlyn.com