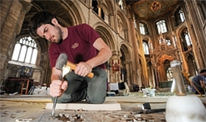 Peterborough Cathedral were awarded £200,000 for repairs to the tesserae presbytery floor
Every year and sometimes bi-annually, grants are made available for churches and listed buildings. The funding is available for restoration and repair.
Your church may require funding for repair and restoration of such things as:
• Conservation Reports
• Bells
• Books and Manuscripts
• Clocks
• Church Plate
• Churchyard Structures
• Fabric Repairs
• Metalwork
• Monuments
• Organs
• Paintings and Wall
• Paintings
• Stained Glass
• Textiles
• Timberwork
All these specific categories have funding arrangements available.
In addition Allchurches Trust Limited are currently offering grants to aid security in connection with metal theft. They also offer grants for building work including replacement heating and lighting.
Most of these grants are available annually to churches on application to Church Care and Allchurches Trust Limited via their websites www.churchcare.co.uk and www.allchurches.co.uk

The Church Care funding is largely provided by the following sources:
Listed Places of Worship Grant Scheme (£42m per annum)
First World War Centenary Cathedral Repairs Fund (£20m plus)
Sources of Funding for Conservation Projects
Funding and Resources for Community Projects
Funding for Alterations and Extensions
Longer Term Funding for Repair Work
Heritage Lottery Fund - Grants for Places of Worship
Heritage Lottery Fund - Conservation Projects (between £10 and £250,00 for individual projects)
National Charitable Grants List, compiled by Parish Resources
National Churches Trust - Community Grants
National Churches Trust - Repair Grants
Roof Protection Scheme
HOW TO KEEP IN TOUCH WITH AVAILABLE FUNDING IN 2017
The 4 issues of our magazine, ECCLESIASTICAL AND HERITAGE WORLD, will carry a campaign for 2017 with news, updates and details of grants available and readers will be able to find experts in their region to advise and assist in each specific category in the classified section in the magazine, or by searching the online directory on the home page of this website.
Whether it be a new organ, a heating system to warm your parishioners, roof and structural repairs or restoration of the interior, funding is available and help from experts is at hand.
Make a start by checking with an expert in your area in our searchable online directory and by investigating the websites linked in this article. Good luck.