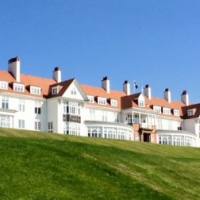 Leadwork specialists Nova Contracts, based in Kilmarnock, have recently finished extensive leadwork improvements to the 5 star Turnberry golf resort owned and operated by new USA President Elect Donald Trump. As part of the 200 million pound refit the company's craftsmen built and installed 94 lead dormers in the accommodation area and replaced 300 sq m of lead cornice-ledge in the hotel's ballroom and hospitality roofing area.
An extensive 18 month refurbishment programme took place and Turnberry re-launched on 1st June 2016 with the redesigned Open Championship golf course, The Ailsa, available for play for the first time. Nova worked in partnership with DM Roofing, who provided tiling, joinery and roughcasting services on the Turnberry project.
Director Ian Buckingham said: "Lead materials used at Turnberry are more durable and last three times longer than other man-made products. Lead is carbon friendly and has the lowest carbon footprint of all hard metals and is up to 100% recyclable. Lead is more economical than any man-made alternative and in some case can be 100% more cost effective over a 65 year period.
"For these reasons Nova Contracts use lead extensively in the majority of our work. Lead flat roofs, vertical lead cladding, lead roofed bay windows, lead dormer roofs, lead slates, lead lined gutters, lead valleys, lead domes, lead turrets, lead cornices, lead copings, lead chimney flashings, lead outlets and lead welding are just some of the key areas that our craftsmen have first class experience in. Not only does the Turnberry lead work look great but it will stand the test of time next to the Ayrshire coastal winds and sea spray."
For further information visit www.novacontracts.co.uk