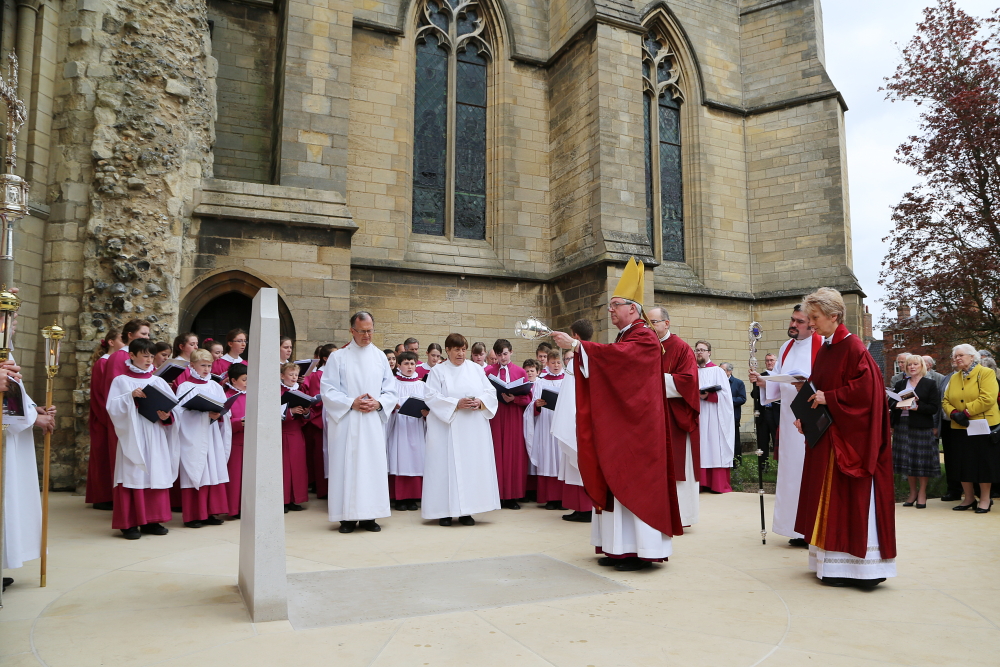 A poignant service was held at Norwich Cathedral on Sunday 15 May, when the new grave of executed First World War nurse, Edith Cavell, was blessed and dedicated.
Edith, who was born in Swardeston in Norfolk, was executed by a German firing squad on October 12, 1915, after helping Allied prisoners escape to Holland.
After the war she was buried at Life's Green in the grounds of Norwich Cathedral. In 2014 the Department for Culture, Media and Sport pledged up to £50,000 to meet the cost of the restoring the grave, ahead of a series of high-profile services and events planned to mark the centenary of her death in 2015.
The work has now been carried out and includes new pathways to improve access, a memorial garden planted with Edith Cavell roses and a newly-commissioned headstone and ledger stone, created by lettercutter, typographer and sculptor, Wayne Hart.
Wayne Hart is an award-winning lettercarver, typographer and sculptor. As one of only a handful of carvers of his generation, he is focused on maintaining this traditional craft and pushing it forward with new ideas and modern technologies. His work has included commemorative gifts, public art projects, memorials, signage, relief carving and artwork for exhibition. For further information on Wayne Hart's work visit www.craftmaker.co.uk/waynehart.
At the dedication service an account of Edith's final hours was read out and hymns were sung. Bishop Graham James, who presided over the service, said:
"The tremendous thing is almost a century on her grave is visited more than perhaps it ever has been. It shows her story resonates, her service, her bravery and her Christian faith. It will continue to inspire Christians and people of all faiths and none."

The public are very welcome to come and visit Edith's final resting place.

Photographs by Paul Hurst