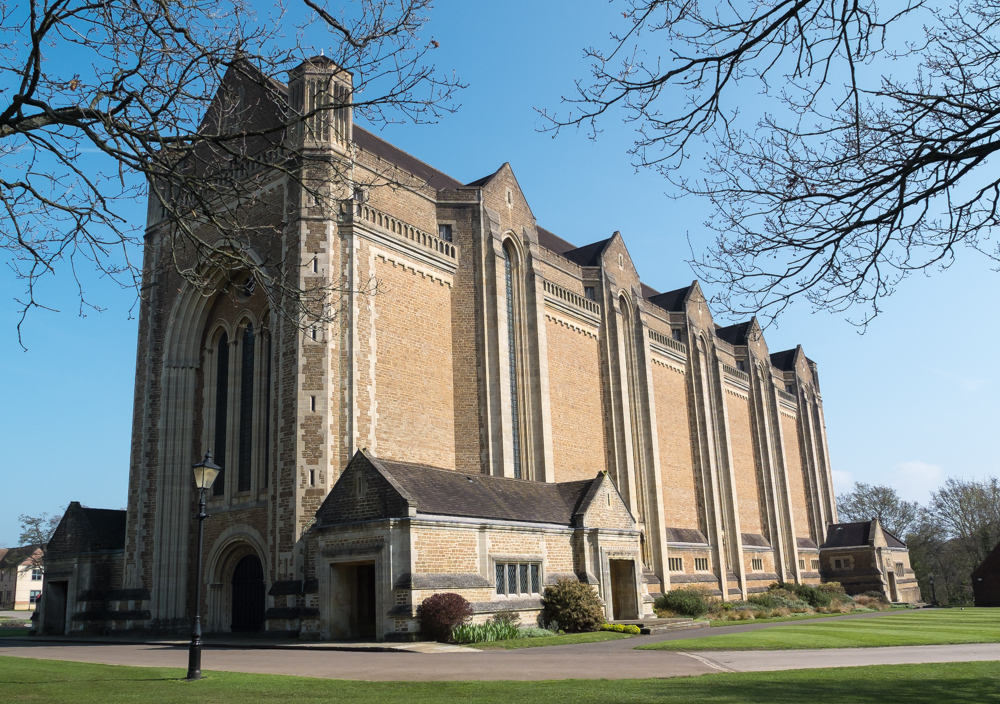 Scanaudio have carried out a major upgrade to the sound reinforcement and induction systems in the Memorial Chapel at Charterhouse during the Easter Holiday. The chapel was designed by Sir Giles Gilbert Scott and consecrated in June 1927. It is the largest war memorial in England and dedicated to the Carthusians who gave their lives in the First and Second World Wars.
Read more...
Apprentices at Smith of Derby have been busy restoring Derby's historic Harrison clock for installation in the new Museum of Making when it re-opens to the public in 2020.

First installed at Derby Guildhall in 1842, the Harrison turret clock dates back to the same period. Its movement was designed by clockmaker, James Harrison of Hull (1792-1875), the great-grand nephew of John (Longitude) Harrison (1693-1776) who famously invented the marine chronometer to calculate longitude at sea.

Read more...

An estimated 18.7% of all listed buildings were physically affected by crime in 2017 - that is over 70,000 listed buildings. The biggest single threat is metal theft and the most threatened type of building is a church. Around 3 in 8 churches or other religious buildings were damaged by crime last year. Panthera Security is the UK's first ever NACOSS Gold Accredited installer of NCP115 Compliant scaffold alarms and they are specialists in the installation of alarm and CCTV systems to listed and religious buildings whilst repair works are being carried out.

Part of Panthera Group, the company has been a leader and innovator of the scaffold alarm industry since 2003, when managing director Neal James recognised that there was a need for regulations and standards within this niche sector of the security market. In 2012 Panthera collaborated with the National Security Inspectorate (NSI) to develop the industry's first ever code of practice.

Read more...

Having designed and made stained glass for many different situations including private houses, churches, public houses, exhibitions and galleries, Ann Sotheran derives the most pleasure from working in close consultation with the client or donor in the initial stages of the design.

She explains:

I like to explore, with them, their reasons for commissioning a piece of work in order that I can develop images which will most closely reflect their feelings and aspirations and evoke a positive response to the finished piece.

Read more...

One of the companies that had reason to be glad they exhibited at the last CRE in Manchester five years ago is Anthony J Smith (Glos) Ltd. They have a long history of designing and installing bespoke lighting systems within churches and since that last show they have been fortunate to have been involved in a number of church projects in the North West – including at Standish, Ecclestone, Preston and Oldham. They also have a small number of other projects in the region at the planning stage.

That being the case, the company felt that, when CRE decided to return to the North West in March, they should do the same, and they are looking forward to discussing potential new projects with visitors to the show who may be looking either for lighting improvements or for a full design, rewire and installation service.

Read more...

Lead is one of the oldest materials in the roofing industry and is still commonly used throughout the world today.

Lead roofing is a traditional roofing method which has been used in the industry for hundreds of years, and is therefore proven to be extremely reliable. Lead roofing, and sand cast lead, in particular is ideal for old buildings such as churches or historical renovations, whereas milled lead roofing is a mass-produced alternative, used for precision and accuracy in homes and commercial buildings alike.

Read more...

St Nicholas' Church, Burton in Wirral, is located in the village of Burton, Ellesmere Port and Neston, Cheshire. It is designated by English Heritage as a Grade II* listed building and is an active Anglican parish church in the diocese of Chester, the archdeaconry of Chester and the deanery of Wirral South.

Inside the church is a hatchment bearing the arms of the Congreve family along with other memorials to the family. The memorial to Richard Congreve who died in 1820 is by S. Gibson and includes a weeping putto. The parish registers start in 1538.

Read more...

Finalists Shane White of SW Leadworks and Ashley Saxton of Saxton Specialist Leadwork will be vying for the prestigious Leadworker of the Year 2019 title at this year's Award Ceremony. The competition, now in its eighth year, is sponsored by the Lead Sheet Training Academy, which specialises in training those using lead or hard metals in the construction industry. It was open to both self-employed leadworkers and those working for contractors.

Read more...

Breakspear House is a truly magnificent 17th century Grade I-listed manor house, which has undergone a detailed restoration.

Formerly the Breakspear family estate in the 13th century and home to W.S Gilbert by the end of the 19th century, it was then acquired commercially in 1956 as a retirement home. Sadly by 1987 it lay abandoned, derelict and vandalised.

Read more...

The National Centre for Writing, which has just completed a £2 million extension and refurbishment project at its headquarters in Norwich, called upon the capabilities of the latest Priva BMS (building management system) as a vital part of the upgrade. By installing state-of-the-art Priva Blue ID technology to monitor and control the internal climate, the organisation hopes to ensure that the building's fabric, which includes ancient timber beams, is preserved in an optimum way.

Read more...

Tudor Roof Tiles Co Ltd, Britain's foremost independent handmade clay roof tile manufacturer, has received a 2018 'Build It Award' for its range of 'Bespoke Handmade Clay Roof Tiles'

This is the second time the company has claimed the prize for 'Best Roofing Product' in these prestigious awards, which recognise the best products, services, projects and innovations available to self-builders and renovators. This achievement for the bespoke tile making abilities follows the company's previous success in 2014 as category winner for its authentic standard range of peg and plain tiles.

According to the judges "This product is a high-quality option for any homeowner undertaking a heritage project or looking to create an authentic period feel."

Read more...

An order has been placed by the PCC of St Wilfrid's Parish Church in Grappenhall, Cheshire for their ring of eight bells (tenor 11 cwts) to be removed from the tower, together with its bell frame and all fittings. A new ring of ten bells, with a similar weight tenor bell, will be cast, tuned and hung in a newly constructed bell frame with all new fittings by Loughborough-based James Taylor & Co - some of the existing Taylor 'H' side frames will be re-used.

Four of their existing bells (3, 4, 6 & 7) were cast by Henry II Bagley in 1700 and are listed for preservation. These bells will be conserved, and rehung for chiming above the new ring of ten.

Read more...

Belmont Abbey, just outside Hereford, is a Roman Catholic Benedictine monastery which also serves as a parish church for the local community. The abbey church is a Grade Two*-listed building dating from 1860. It was designed by Edward Welby Pugin, son of the celebrated architect Augustus Welby Pugin, and is noted for the quality of its sculpture and stained glass.

As with many buildings of it age, the abbey had various dampness problems that required constant attention – rising, or structural, damp being just one of them. Specialist damp treatment company Core Conservation were engaged to survey the building and proposed the Aquapol non-invasive system.

Read more...

Nestling in the heart of the historic Norfolk market town of Swaffham, the beautiful Grade Two-listed Methodist Church has recently been renovated to offer state-of-the-art resources to people of all ages and interests in a bright and welcoming building.

The transformation has been accomplished in no small part through the collaboration of two specialist church suppliers – Cunnings Recording Associates and Fullers Finer Furniture – in conjunction with the building contractor H Smith and Sons of Honingham.

Walk into Swaffham Methodist Church today and you enter a contemporary and flexible space, exquisitely modernised to blend the best of old and new, through bespoke furniture and restoration work provided by Fullers and a quality audio-visual system installed by Cunnings.

Read more...

The Parish Church of St John the Baptist in the village of Somersham, near Huntingdon, stands on a site which is thought to have been used for Christian worship since the second half of the 7th century.

The current building itself dates from the latter part of the 13th century and was probably built by one of the bishops who lived in the Bishops Palace, which was sited only a few hundred yards from where the church now stands but has sadly disappeared.

Read more...

Walthamstow Wetlands is a series of 10 reservoirs, located in the Lea Valley Special Protection Area, providing drinking water to 3.5 million Londoners. The 211-hectare site is an area of Special Scientific Interest, which has been transformed into one of Europe's largest urban Wetland nature reserves.

A collaboration between Thames Water, the London Borough of Waltham Forest and London Wildlife Trust, the aim was to conserve the heritage and identity of the site, whilst allowing free public access to this unique landscape of water, woods and marshland.

Read more...

Newtech was awarded the contract to design and install a new audio visual system for Ealing Green Church, West London. The church was to undergo a complete refurbishment and as part of these works a new high quality sound and video system was required.

The church required multiple floorboxes each with a variety of audio / video inputs and outputs, these would allow for the system to accommodate all types of services and events to be held in the church.

Read more...

Entries for the 2019 Leadworker of the Year competition are now open. The Lead Sheet Training Academy (LSTA) is inviting those who are proud of the leadwork skills they have, and who have undertaken an LSTA or Lead Sheet Association leadwork course, to enter the competition. It offers leadworkers the chance to get a career boost and gain recognition of their skills.

The competition is open to all leadworkers in the UK – whether they are self-employed or working for a contractor. The winner receives a free week of training at the LSTA, a new set of tools and a copy of the Rolled Lead Sheet Manual.

Read more...

After the modernism that followed the war, no one expected we'd see hand-carved ornamentation in our architecture again, writes Master Carver Ian Agrell. Yet here it is. We're enjoying a resurgence in classical decoration, whether it's a restoration of a 400-year-old church, a brand-new chapel with a Gothic organ case, or a Louis XIV-style library for a billionaire's London penthouse.

Large architectural firms are increasingly winning projects requiring hand-carved woodwork. However, many of these companies—especially those more experienced in modern styles—know little about classical decoration or the ornamentation industry as a whole. They might not know that woodcarving workshops still exist.

Read more...

The Oast House is a former oast house and heritage asset, which forms part of a complex of former agricultural buildings near the village of Hever in Kent.

Once a derelict ruin located in the curtilage of the Grade II listed Lydens farmhouse, it has been carefully restored and converted by Richard and Jane Horobin into a characterful family home, which blends with the rural landscape of the High Weald Area of Outstanding Natural Beauty.

Read more...

Bats are a protected species in the UK and play an important role in the ecosystem. Until now when bats are found, only Bitumen 1F felt has been used. This has come at considerable cost to the thermal performance of the roof because 1F felt requires extra rafter space if insulation is used; in old buildings this is often not possible.

Properties with an uninsulated 1F felt roof can release up to 10 tonnes of CO2 per year through the buildings fabric. Replacing 1F felt with a breathable membrane and additional insulation between the rafters can reduce CO2 emissions by 57%. These factors have a large impact on global warming and climate change.

Read more...
<< Start < Prev 1 2 3 4

5

6 7 8 9 10 Next > End >>


Page 5 of 59