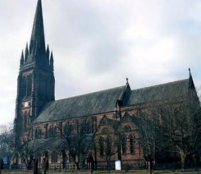 Christmas worship will be a more comfortable experience for the congregation at St Mary's Without-the-Walls in Handbridge, Chester. Stoke-on-Trent heating specialists Mellor and Mottram completed the installation of a new system in the 19th-century building at the beginning of November, allowing worshippers time to get used to the new-found warmth before Advent.
The church was built in 1887 to replace the original St Mary's On-the-Hill, which is now a heritage centre inside the city walls.
The new system comprises two gas boilers from Rinnai, the award-winning manufacturer based in nearby Runcorn. The boilers feed radiators from the Jaga range, featuring low surface temperature for added safety of the congregation.
Read more...
At this time of year, you may well be thinking about upcoming gatherings of friends and family, especially if you plan to host a party yourself and cater to a lot more people than you usually would. It's great to be surrounded by people at Christmas, but how can you possibly get everyone round the dinner table?

Mogo Direct has the perfect solution for you. They offer a range of brilliant value, premium quality folding tables which are ideal for welcoming more guests than usual, at home or at your event venue. Their main range covers plastic, wooden and metal folding tables in all shapes and sizes. Round, square and rectangular designs are available with centre-folding, adjustable legs and other handy features available.

Read more...

Killasmeetia Church has been given protection by LPTG Member in Ireland, ADS & Associates of Co Clare, having been struck by lightning.

Many believe that a simple rod at the top or highest point of a building constitutes a lightning protection system, however this case study illustrates that this is not the case.

The church is located in the middle of Ireland and was struck by lightning a few years ago. However the church did have a lightning rod on the cross (the highest point) at the opposite end of the building to where it was struck.

Read more...

Leadwork specialists Nova Contracts, based in Kilmarnock, have recently finished extensive leadwork improvements to the 5 star Turnberry golf resort owned and operated by new USA President Elect Donald Trump. As part of the 200 million pound refit the company's craftsmen built and installed 94 lead dormers in the accommodation area and replaced 300 sq m of lead cornice-ledge in the hotel's ballroom and hospitality roofing area.

An extensive 18 month refurbishment programme took place and Turnberry re-launched on 1st June 2016 with the redesigned Open Championship golf course, The Ailsa, available for play for the first time. Nova worked in partnership with DM Roofing, who provided tiling, joinery and roughcasting services on the Turnberry project.

Read more...

Are you a leadworker under 30 years of age? If so, don't miss your chance to give your career a boost and gain recognition for your skills. The Lead Sheet Association is launching its search to find the 2017 Young Leadworker of the Year.

The competition is open to leadworkers in the UK – whether you are self-employed or working for a contractor. You just need to be under 30 years of age on the closing date, Friday 24th February 2017.

Read more...

The trade body that represents the leadworking industry – and guarantees quality in that industry – is the Lead Contractors' Association (LCA). The LCA was formed in 1984 to promote quality standards in leadwork and now comprises over 70 specialist contractors committed, supported by 15 associate members who supply materials and ancillary services.

Members comprise every business model, from sole traders and partnerships to established corporate bodies. Whether they employ their own workforce or engage teams of subcontractors, members are required to take full responsibility for the purchase and application of the lead sheet under their control.

Read more...

Five projects have been shortlisted for the 2016 King of Prussia Gold Medal church architecture award for repair and conservation work, run by the Ecclesiastical Architects and Surveyors Association and the National Churches Trust.

The winner will be announced by Prince Nicholas von Preussen at a special awards ceremony to be held at St Mellitus college, London SW5 on Thursday 3 November 2016. Also at the awards ceremony, The Duke of Gloucester KG GCVO ARIBA, will announce the 2016 winner of the Presidents' Award for new church architecture.

Read more...

Based in Sheffield, Scaff Security Alarms Ltd can offer permanent battery powered, wireless monitored CCTV protection for churches and heritage properties nationwide. The company is listed on the National Churches Trust Trades Directory and use Ecclesiastical approved equipment.

Indeed, with over 20 years experience and access to the latest security products, Scaff Security are well placed in the security industry to provide protection for both churches and other heritage properties.

Read more...

Tudor Roof Tile Co Ltd, Britain's foremost independent manufacturer of handmade clay Peg and Plain roof tiles, has been awarded membership by the Guild of Master Craftsmen for its skill and excellence in the art of traditional clay roof tile making.

The Guild of Master Craftsmen is the UK's most established trade association, representing skilled and rated tradesmen, craftspeople, artisans and other professionals who strive for excellence in workmanship and customer service. All members sign up to the aims and objectives of The Guild and the logo and coat of arms are a sign of quality instantly recognised by consumers.

Tudor Roof Tiles uses traditional handmade techniques that have hardly changed over the ages. Each tile is individually hand pressed, moulded and trimmed to give its distinctive 'olde world' character, and then strengthened by advanced firing techniques in order to give the final product exceptional performance and durability, which exceeds current building regulations.

Read more...

The new Chapter House at St Albans Cathedral, one of the oldest cathedrals in Britain, was opened in 1982 by Her Majesty Queen Elizabeth II.

Designed by the renowned architect Sir William Whitfield and his Assistant Andrew Lockwood, the new Chapter House was rebuilt, on the footprint of its Benedictine predecessor, once the ancient site had been thoroughly excavated. These archeological excavations revealed the remains of eleven abbots, four monks plus monastic officials.

Read more...

A poignant service was held at Norwich Cathedral on Sunday 15 May, when the new grave of executed First World War nurse, Edith Cavell, was blessed and dedicated.

Edith, who was born in Swardeston in Norfolk, was executed by a German firing squad on October 12, 1915, after helping Allied prisoners escape to Holland.

Read more...

Hymn Technology Ltd was established in 1995 to market and distribute an American electronic hymn player in the UK. Directors Martin Phelps and Alan Kempster, who between them had amassed over 50 years experience in the organ industry, saw the huge potential for a unit that could accompany congregational singing in the absence of either musician(s) or instrument(s).

The US manufactured product sold well, but it became apparent after a while that churches needed a far more advanced and complete solution to what was clearly becoming a huge problem - the lack of competent musicians in churches up and down the land who were prepared to make the commitment to be available every Sunday.

Read more...

Architectural ceramics specialist, Darwen Terracotta and Faience, was chosen by Charles Holland of commissioned artists Ordinary Architecture to build the artwork Foundation Myths. This pioneering sculpture has been installed at the new Artists' Garden at the York Art Gallery. The work comprises ten, life-sized, ceramic tree stumps arranged geometrically in two rows to echo the foundations of a former building.

Read more...

The winner of The King of Prussia Gold Medal was announced by the National Churches Trust and the Ecclesiastical Architects and Surveyors Association at a ceremony held at St Mellitus College, London on 3 November 2016.

The King of Prussia Gold Medal for church repair and conservation architecture was won by architects Lloyd Evans Prichard for their work to restore the spire of Sir George Gilbert Scott's St James Church, New Brighton, Merseyside. St James Church received a £500 prize.

Read more...

The New Testament of God Church in Willesden commissioned Northamptonshire-based SA Sound Services to handle the audio element of an extensive refurbishment, triggered by the installation of a new wraparound balcony seating around 200 people.

"With a full AV and sound upgrade to carry out, we took the opportunity to put in all the cables at the same time," recalls proprietor Steve Ashley, "all the video cables, and runs of analogue and digital cables for the PA system, all under the floor."

Read more...

We, at John Williams & Company, offer a bespoke lead casting service. We use traditional moulded sand techniques to create seamless lead plaques and decorative features. If you would like a quotation for a lead casting or just some advice please contact us.

Method of Sand Casting

Stage 1

A template is made in the exact form as the required finished lead feature. Templates can be mafrom any material so long as it is relatively smooth. Sand moulds will take the shape of even the finest of details so if materials such as natural timber are used the mould is likely to also incorporate the grain of the wood in the casting process.

Read more...

Your guttering helps protect your house, keeping rain and snow from causing water damage to your roof, rafters, exterior and interior walls. Climbing ladders in miserable weather to clear out blocked gutters is something no one enjoys. To help you get your gutters ready for Autumn now, Rainclear are offering a specially designed GutterScoop™ at just 99p with every order of Gutter Guard Brushes.

Why fit gutter brushes?

Once installed the Hedgehog™ Gutter Guard Brushes mean any falling leaves and debris get caught on its spikes leaving the rainwater to run clear and the debris to simply blow away when dry. Take action now so you can relax when Autumn arrives.

Read more...

Purcell is pleased to announced its merger with Norfolk-based architectural practice Reynolds Jury Architecture. Combining expertise and skills will increase Purcell's service offer in the region.

Janet Jury, co-founder of Reynolds Jury Architecture, is appointed partner of Purcell's Norwich studio. With 33 years' experience, Janet brings her contemporary residential, community and care-sector design skills, project management capabilities, urban design qualifications and conservation expertise to the team. Janet previously worked at Purcell for 12 years and was involved in high profile projects including the National Gallery and the British Museum, Wimpole Hall in Cambridgeshire and works in the Hanseatic coastal town of Stralsund in Germany, a UNESCO World Heritage Site.

Read more...

The overall principle of this Kent County Council scheme, designed by Russell Florey at Amey Consulting, was to shift priority from vehicles to pedestrians in Tonbridge town centre and thus provide a more pleasant environment for shoppers. Russell explains that "previously the pedestrian experience in Tonbridge had been poor with very narrow footways, wide carriageways and three Pelican crossings. The new scheme has widened the pavements significantly, narrowed the carriageway, constructed designated loading bays, imposed a 20mph speed limit and introduced a table top feature (carriageway & footways all at one level) to allow able-bodied pedestrians to cross more easily."

Read more...

Thirty-nine grants totalling £14.5 million have today been announced by government for urgent repairs to Church of England and Catholic cathedrals in England. This is the second phase of grants awarded by the First World War Centenary Cathedral Repairs Fund.

Read more...

Even the smallest buildings can be of critical importance to their users, especially in relatively isolated communities. The performance and reliability of Advanced's MxPro fire alarm panels has seen them installed in another remote coastal location, the Atlantic Islands Centre on Luing, off the west coast of Scotland.

Situated south of Oban in the Firth of Lorne, the largely unspoilt 5.5 square mile Isle of Luing is one of the Slate Islands. The Atlantic Visitor Centre, in the village of Cullipool, is set to revitalise the island's economy, raising awareness of Luing as a tourist destination and offering a range of outdoor activities. The Centre will also provide a community hub for the island's 200 residents, providing workshops and office space. It also has the capability to be used as an emergency refuge.

Read more...
<< Start < Prev

11

12 13 14 15 16 17 18 19 20 Next > End >>


Page 11 of 55