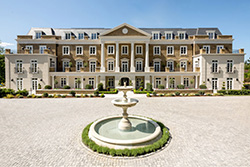 Only walking distance from Ascot Racecourse and high street, the grand Englemere development by Millgate offers 17 luxury apartments, set amongst 12 acres of manicured landscaping. This spectacular development is situated alongside the world famous sporting venue, with over 300 years of rich heritage, the grandstand shadows Ascot's picturesque high street and nearby quaint villages, boasting extensive shopping opportunities and a wealth of bustling bars and restaurants.
Read more...
St. George's Hall, Liverpool is regarded as one of the finest examples of a Neo-Classical building in the world. When constructed in the 1850s, the intricate encaustic tiled floor was the largest Minton pavement in the world at over 30,000 individual pieces. Today, the tiled floor is undergoing major restoration and the first stage is successfully completed. The complexity of the original Minton design makes this project one of the most exacting ever undertaken by the UK specialist tile manufacturer Craven Dunnill Jackfield.


Harvey Lonsdale Elmes, a London architect aged just 25, won a competition to design the original Hall, along with the new assizes court. Construction started in 1841: the building opened in 1854.

Read more...

Four outstanding young roofers from around the United Kingdom will be heading to Poland this coming October to take part in the bi-annual World Championship for Young Roofers, organised by the International Federation of Roofing Contractors (IFD). This year the competition is being hosted by the Polish Roofing Trade Association, PolskieStowarzyszenieDekarzy (PSD).

Through this international competition, the IFD aims to harmonise professional roof training, raise the profile of training to the public and create a common international message to promote the standards of skilled young roofers. The competition itself covers the three major roofing disciplines; Flat, Pitched and Metal and Team GB will be aiming for gold in Flat and Pitched.

Read more...

Heritage buildings, successfully refurbished, can make a significant contribution to community participation. When in need of a new or continued lease of life, sensitive creative intervention, new ideas, artistic expression and local interaction have the potential to help the buildings flourish.

The work of Sound Space Vision (SSV) in this field includes transforming a redundant Grade II Listed church in Hammersmith into a performing arts venue. Also, in Manchester, a sought after orchestra rehearsal space has been borne for the Hallé Orchestra out of a disused chapel.

At the University of Sussex Attenborough Centre for Creative Arts (ACCA), SSV, in collaboration with RHP Architects, have reinvented the facilities at the former Gardner Arts Centre. Remaining within the vestiges of the original 1960s design by Sir Basil Spence, it has been upgraded and transformed into effective rehearsal and performance spaces, teaching and workshop arenas and public gathering spaces for both its students, the wider community and professional ensembles.

Read more...

Carved Tudor roses on the woodwork of a grand Tudor house in Norfolk provided the inspiration for the creation of new leaded lights for a window of that same house. The new design, by Norfolk studio Kenton Brauer, is a replacement for an existing stained glass window which had become tired-looking, with some broken lights.

Kenton Brauer is a very personal Norfolk business, working to craft and restore traditional and contemporary stained glass and casements for ecclesiastical, commercial and domestic commissions. In the case of the Tudor house, in Harleston, partners Paige Kenton and Jason Brauer removed the existing stained glass and replaced it with a subtle design to complement the house's ambiance.

Read more...

When a major fire raged through the Grade One-listed Cupola House in Bury St Edmunds in 2012, the fire service called upon local specialist builders Seamans Building to make the building safe. After bringing in long-reach demolition plant to help secure the structure, Seamans embarked upon clearing the debris, preparing the site for surveys and erecting a temporary scaffolded structure to preserve the integrity of what remained.

Architects Purcell then began work, in partnership with English Heritage, St Edmundsbury Borough Council and a team of specialist consultants, to stabilise the surviving built fabric and reconstruct the lost historic features. Using all the available information about the building, which was built in 1693, the architectural team recreated the principal spaces and reintroduced many of the building's architectural details, including panelling, cornices, architraves and the staircase.

Read more...

From April to July, roofing apprentices from around the UK demonstrated their skills at regional heats to gain a place at this year's SkillBuild Final, taking place on the 17th-19th November, at NEC Birmingham.

The competition, organised by the National Federation of Roofing Contractors (NFRC), saw fifty-five competitors taking part in one of eight heats, which were overseen by three judges, Matt Timby, Simon Dixon and Bob Coutts, who's vast experience of roofing competitions range from a past SkillBuild winner to a recognised mentor for the international competition: World Championship for Young Roofers.

Read more...

Britain's largest industry survey of its kind has exposed a lack of accreditation knowledge among those working with lead in the construction industry.

This is one of the key takeaways from the UK-wide survey of more than 250 lead merchants and end users, commissioned by Midland Lead and conducted by Firebrand Insight, an independent research consultancy.

Read more...

In architecture and interior design, woodcarving rarely exists alone. Usually it's integrated into the millwork, such as mouldings, columns, brackets and cabinetry. That means a woodcarving workshop must either be part of, or comfortable partnering with, joinery workshops and vice versa.

The working relationship between woodcarver and joiner has existed for centuries. My company, Agrell Architectural Carving, has decades of experience partnering with joinery companies using tried-and-true techniques passed down through generations of our trades. My job as account manager is to ensure our hand-carved ornamentation integrates perfectly into joinery projects.

Read more...

You can now browse and buy Harmer Cast Iron Roof Outlets online on Rainclear Systems' website. You can conveniently pay by card or Paypal with delivery to you or your site within 5 working days.

Harmer are well known for manufacturing the marketing leading range of rainwater handling and building drainage products. Now Rainclear offer the added convenience of buying them on a mobile responsive ecommerce website wherever you are and whenever you are ready.

Read more...

The award for Project of the Year in the 2015 East of England RICS Awards was won by the conservation and extension of the medieval church at Clare Priory in Suffolk. Established in 1248, Clare Priory is one of the oldest religious houses in England; situated in the shadows of Clare Castle on the banks of the River Stour.

Read more...

Walmgate Bar is the most complete of the four main medieval gateways into the City of York. It is the only one to retain its barbican, portcullis and inner doors and has recently undergone a major programme of restoration work. This included repairs to stonework dating back to the 12th century and improving public access.

At the city centre side of the Bar is a two storey oak timber framed structure dating back to the 16th century. This part of the building had suffered from timber decay, structural defects and the rectification of failing repair works undertaken back in the 1970s and 1990s.

Read more...

As building owners or operators we are custodians of a number of valuable assets, such as the premises themselves and the often overlooked element of the need for continuity of operation. Plus, of course, when our buildings are occupied – human life.

So, as conscientious people we try to ensure our buildings are designed to be safe and managed as much as possible so as to prevent a fire.

They are equipped with fire detection systems and possibly fire suppression systems. We even develop and practice emergency evacuation strategies as part of our management plans. All of these aspects of fire safety are reasonably obvious and tangible items for responsible building operators.

Read more...

An innovative new scheme to create a community and heritage hub in the heart of Westbourne Green in Paddington – one of the most religiously and culturally diverse wards in London – has reached a major milestone as the Heritage Lottery Fund (HLF) awarded the project a £3.6m grant.

The St Mary Magdalene Development Project is a joint initiative between the Paddington Development Trust and St Mary Magdalene Church which will transform the church building into a heritage, community, culture and arts hub in order to enrich, regenerate and bring greater cultural cohesion to the local area.

Read more...

The summer saw work continue on the new church hall at St John the Evangelist in Redhill, Surrey. Following completion of the basement, which involved an impressive concrete pour of 120m3 to create the floor and a further pour of 43m3 to form the walls, the ground floor slab was cast and the dividing walls constructed. That gives the basement a sense of real 'space'.

Said Anna Bataille of main contractors Corniche: "The months of enabling works and basement construction are over, the project has really moved on and we are now in phase two. This is a really exciting place to be as the building now has form and the artisan trades can get to work."

Read more...

The British government have announced a £2.4 million fund to help secure places of worship in England and Wales. Churches, mosques and temples have been invited to bid for grants if they can show that they are at risk of attack from religious hate crimes.

Synagogues are excluded from the scheme because the government has provided a separate grant to the Community Security Trust, a charity that provides protection services to Britain's Jewish communities.

The scheme has been launched by Britain's Home Secretary, Amber Rudd, as she outlined a Hate Crime Action Plan. This will include a study into how the different police forces in the country understand and respond to hate crimes and a commitment from the government to "give young people and teachers the tools they need to tackle hatred and prejudice, including through a new programme to equip teachers to facilitate conversations around international events and the impact they have on communities here in the UK."

Read more...

The Lead Sheet Association is pleased to announce the launch of a newly updated version of its Rolled Lead Sheet Manual - the biggest revamp in recent years.

The 2016 edition contains many improved drawings, a better layout and clearer tables to ensure all users get the best out of Rolled Lead Sheet. In particular, we have improved the section on ventilation, an area in which our technical team deal with many enquiries. We have created a better step-by-step approach to ensuring you get the ventilation correct in a range of circumstances – from flat and pitched roofs to dormers.

Read more...

Stealing lead from church roofs has become a lucrative operation over the past decade, and in recent years has seen more and more churches fall victim.

St Michael's and All Angels Church has been at the heart of Church Broughton in Derbyshire for over 900 years, so when the Grade 1 Listed church was attacked by thieves last year they sought a professional company to install a system to prevent this from reoccurring. The changes to their insurance policy meant they now could achieve a greatly enhanced claim cover from their Insurers.

Read more...

CompetentRoofer is the Government-licenced Competent Person Scheme that allows professional roofing contractors to self-certify that their roof refurbishment work complies with Building Regulations within England and Wales. The scheme encompasses all roofing types for domestic, industrial and commercial properties.

Cheap work has hidden cost implications

Your property is one of the most expensive and important things that you can own so risking any building work to unregistered contractors, simply because it is the cheaper option, is false economy.

Read more...

The art of woodcarving is truly international and nowhere is that better illustrated than in the career of Devon-based Laurent Robert. Born in the Auvergne region of France, Laurent began his career as an apprentice there before moving to England to continue his apprenticeship with the long-established ecclesiastical firm of church restorers, Herbert Read Ltd. While he was with them he was involved in the restoration of the organ case of St Paul's in Deptford and the refurbishment of Kensington Palace Chapel.

Read more...

The Church of Our Lady and St Peter in Aldeburgh, Suffolk sits on a hill top with stunning views of the coast below. When it was built, the church was intended to be very much in the style of the 40-odd round towered medieval churches that you find in the county, particularly along the coast.

Read more...
<< Start < Prev

11

12 13 14 15 16 17 18 19 20 Next > End >>


Page 11 of 54