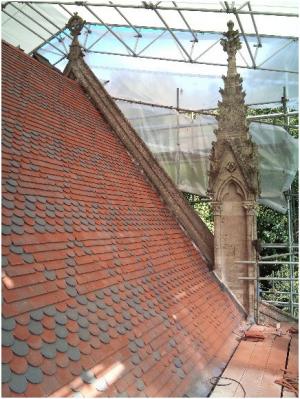 When the call came through to Dreadnought Tiles requesting tile samples for a church re-roofing project little did the manufacturer realise that the contract would lead to the development of two new product lines aimed specifically at plugging a gap in the restoration market.
Read more...
When a 19th Century wharfside store in Carmarthen was transformed into a luxurious family home, choosing a heating system that would complement the interior aesthetics while maintaining energy-efficient comfort was essential. The answer proved to be a Unico small duct warm air heating system, where the only visible signs of the system are discreet outlets in each space.

Read more...

You could say that music is the heart and soul of our churches. Unfortunately, space is often limited for rehearsal and practice, however there is now a low budget tried and tested innovative solution.

BeatBox™ is a fantastic contemporary music space offering a dedicated soundproofed environment for music creativity. Providing a unique music practice room for bands or solo players, it is transportable, compact and tenacious.

Read more...

After receiving almost 300 entries this year, we are delighted to announce the finalists for the UK Roofing Awards in 2016. The competition ran from September until the end of January when a panel of technical experts from supporting trade associations whittled the entries down to just 56 projects across 14 categories. The winners are then chosen by a small panel of construction professionals.

The winners will be announced at the UK Roofing Awards ceremony on Friday 13th May 2016. We wish this year's finalists the very best of luck. All the short-listed projects, sponsors and more information on the Awards can be found at www.roofingawards.co.uk.

Read more...

When St John The Evangelist Church in Redhill, Surrey decided that they needed a church hall, to address the lack of children's facilities as well as the need for office space, they approached specialist contractors Surrey-based Corniche Builders Ltd to undertake the project which had to meet a number of stringent requirements.

The church is a Grade B Ecclesiastical Listed Building, whilst the churchyard and boundary wall are curtilage listed. The proposal required work to be carried out within the graveyard and so there were issues relating to the sensitivities of the relocation of graves. The site also lies close to the Earlswood and Redhill Common Site of Nature Conservation Interest (SNCI).

Read more...

Our picture shows W40 steel windows and doors. The Steel Window Association have provided answers to nine of the most important questions surrounding steel windows:

1. Do steel windows rust?

Modern steel windows, positively rustproofed by the hot dip galvanizing process and then polyester powder coated, together with brass and stainless steel hardware, will provide as good if not better durability than is offered by competing materials.

Read more...

Surrey based Gillett & Johnston has been supplying and installing clocks, bells and weathervanes since 1844 and are one of a few specialist companies capable of carrying out restoration of this type of equipment.

Recently they were contacted by St John's Church in Bethnal Green because the weathervane was in danger of becoming a safety hazard.

Read more...

Since October 2004, Induction Loops have been mandatory in all public buildings - including Places of Worship. They are used to transmit clear sound, without the need for wires, to hearing aid users.

A correctly designed Induction Loop System produces a crystal clear sound through the whole of the seated area of the venue without the necessity for the user to take any action, apart from moving a switch on their hearing aid. Hearing Aid users can sit anywhere and hear perfectly without either background noise from other people or any other interference.

Read more...

York Theatre Royal, founded in 1744 and one of the UK's oldest producing theatres, reopens its doors on Friday 22 April 2016 following a £6million redevelopment. The project by architects De Matos Ryan has transformed the 270 year old theatre into a building fit to serve a 21st century audience with improved access and flexibility.

The project has been funded by Arts Council England, City of York Council and York Conservation Trust with generous grants and donations from local and national trusts and foundations, corporate and individual supporters. A further £153,000 has been raised through a public fundraising campaign.

Read more...

Westhill Community Church in Aberdeenshire was a new, greenfield project. Its contemporary style was designed for maximum functionality and to encourage use by the wider community. 33 FAKRO roof windows flood the stage with natural light and illuminate buildings which form the sanctuary, foyer and offices.

Products included FTP-V U3 Electro windows with rain sensor, EFW flat roof windows and an FAKSV17 Smoke Vent window.

Read more...

Nicole Wall of Southampton based picture framers We Frame It has just completed a major project involving a series of four silk paintings that arrived in a perished condition. Liaison with a textile conservator resulted in the silk being consolidated and finally framed.

Nicole takes up the story: "Four silks depicting the seasons arrived in my studio in a very delicate state having already been shipped back from New Zealand. I was able to offer advice to the customer concerning their conservation before I could frame them.

"One had been disturbed and broken away along the top edge. The others were in good condition but very delicate. Each one was fastened behind the matt along the top edge only, thankfully, with a strip of double sided Sellotape, now beyond easy removal with a solvent.

Read more...

BTP Architects has been appointed to restore the landmark Pankhurst Centre in Manchester. Subject to successful fundraising, the £2.6m project will see a complete refurbishment of the site which is the former home of suffragette, Emmeline Pankhurst.

Following a design competition, BTP Architects was selected by the Pankhurst Trust to restore the Grade II* listed building and support its Stage 1 Heritage Lottery Fund bid.

Read more...

Trafalgar Place, residential scheme designed by De Rijke Marsh Morgan Architects (dRMM) has won the 'Best New Place to Live' and the 'Mayor's Award for Planning Excellence' at London Planning Awards, 2016.

As the first phase in Lendlease's regeneration of the former Heygate Estate, Elephant & Castle; Trafalgar Place is a scheme of 235 homes integrated within the historic fabric of the predominantly 19th century neighbourhood. The design reconnects the existing monolithic architectural interventions of the Heygate Estate and integrates the adjacent neighbourhoods.

Read more...

Frimley Green Methodist Church is a brick built building in the heart of Frimley Green, serving both the church and the wider community. The building was first completed in 1940, and replaced an old tin chapel, since then an extension has been added and the wooden stalls replaced with more comfortable seating. The church is a busy multi-functional venue with many activities taking place each week. In 2015 a decision was made to update the building and Fullers Finer Furniturewas commissioned to carry out the work.

The brief was to modernise and improve the functionality of the space at the front of the church and to provide new furniture that was both aesthetically pleasing and pleasingly functional.

Read more...

Stirling Castle is amongst a string of Scottish tourist attractions that had a record-breaking 2015, according to figures released by The Association of Leading Visitor Attractions (ALVA) today, Monday 7th March.

ALVA reports a 5.48% increase in visitors to its member sites across Scotland, with Historic Environment Scotland confirming a 4.1% increase in footfall – a total 458,932 visitors – to Stirling Castle last year.

Read more...

Historic Environment Scotland is celebrating Scottish Apprenticeship Week by offering 9 school leavers the opportunity to join the team at Edinburgh Castle on a two-year Modern Apprenticeship.

Starting in June 2016, the Modern Apprentices will spend their first three months taking part in a thorough induction of the castle, before being thrown into working life at Scotland's most popular visitor attraction. Over the two years, apprentices will divide their time between college and hands-on experience of working in one of three main areas: admissions, tour guiding, or retail.

Read more...

York-based stained glass artist Ann Sotheran has more than 25 years experience of designing and making stained glass for a wide range of locations. She works in the traditional English method of stained glass making, selecting and cutting glass from hand-made sheets sourced from English Antique Glass at Alvechurch, Lamberts in Germany and St Just in France, along with precious remnants of glass once made by Hartley Woods in Sunderland. The glass may be acid etched, painted and stained before being leaded.

Read more...

Southampton based Ian Wall Furniture Restoration were contacted by the Parish Church of St Margaret of Antioch, East with West Wellow about an old oak coffer that had been used for many years to store the flower arranging paraphernalia.

The back and base had become detached and it was no longer stable. Upon inspection it was found to have suffered badly with woodworm and the bottom rail at the rear was so badly damaged it fell away.

With a limited budget it was decided to insert a section of oak so that it was able to hold the back panels and floor in situ. A length of oak was dimensioned and machined to accept the old structure and then inserted into place. It was then coloured to bring it to a dark colour to match as best possible within the time constraints.

Read more...

War memorials in Cowie and Strathblane are to receive £1.5k and £2.4k respectively, to carry out vital repairs, as part of an initiative to restore memorials across the country, as part of the four year centenary commemorations of the First World War.

They are part of a wider group of 8 war memorials across Scotland who have been awarded a total of £87k. Two well-known Falkirk memorials - the Duke of Wellington Memorial (pictured) and Falkirk Boer War Memorials in Newmarket Street - are to receive £750 each. The announcement coincides with the commemorations for the centenary of the beginning of the Battle of Verdun – one of the longest and bloodiest conflicts of the First World War.

Read more...

Rainclear Systems has been in the business of providing customers with high quality Cast Iron Rainwater products and a high quality of advice and service for over 10 years.

Cast Iron guttering and downpipes have the longest life span of 100+ years when maintained correctly.

If purchased pre-painted the finish will last for approximately 10 years before the system needs to be repainted.

Read more...

You wouldn't expect an archaeological dig to form part of a roofing project, but for Sheffield-based Martin-Brooks, it is all part of the service.

While working on St Michael and All Angels church in the Derbyshire village of Taddington, the heritage specialists needed help to uncover the past and cure a soggy problem.

As land to rear of the grade I listed church was prone to waterlogging, Martin-Brooks was asked to extend its remit to improve drainage across the site. The churchyard is known to contain unmarked graves of orphans who worked at nearby Litton Mill in the 1800s, so expert assistance was called in to monitor the excavations and record anything of archaeological interest that was encountered.

Read more...
<< Start < Prev 1 2 3 4 5 6 7 8 9

10

Next > End >>


Page 10 of 51