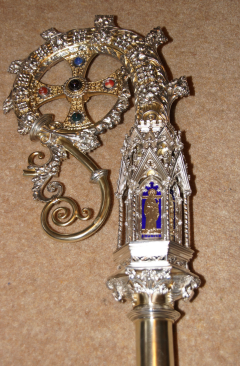 When the Crozier head on Lichfield Cathedral's Maclagan Crozier had broken away from the central stem, as a result of the screw thread being overtightened, the cathedral's treasurer appointed Shropshire-based Historic Metalwork Conservation Company (HMCC Ltd) to carry out the repair.
The company provide conservation advice to all those charged with the care, management and preservation of historic metalwork in all its various forms, but with a particular emphasis on historic ironwork.
Read more...
The world-famous Natural History Museum in London,and its more than five million annual visitorsare being protected by intelligent fire panels from Advanced.

Often called the 'Cathedral of Nature' the Natural History Museum is renowned for its collections of dinosaurs and ornate architecture, andis widely recognised as the pre-eminent centre for natural history and related research. The Museum is the third most popular in the United Kingdom and its irreplaceable 80 million strong collection is of global importance and includes many collected by Charles Darwin.

Read more...

Situated on the River Avill the present Dunster Watermill was built around 1780. Milling however has taken place on this site for over 900 years and is mentioned in the Domesday Book. The mill is powered by two overshot wheels and is still producing organic flour today. It is currently owned by the National Trust.

Dorothea Restorations started the replacement of the missing waterwheel at Dunster during the winter of 2014/2015. The English Oak staff was selected by hand and machined down to replicate the faceted profile allowing the wedging of the nave at either end.

Read more...

By raising awareness of Boston's historic significance and encouraging investment in a series of conservation projects, Historic England has helped this Lincolnshire town to capitalise on its past.

Boston reached its zenith in the medieval period when it was the second busiest port in Britain, but decreasing wool exports led to its decline. Although enjoying a revival in the 18th and 19th centuries, by the 20th century the silting of the Haven and a shift in trade routes transformed Boston from international trading hub to remote coastal town.

Read more...

Popular perceptions of Great Yarmouth are that of a one dimensional, kitsch and deprived seaside holiday resort. Images of low-value amusement parks, gaudy slot arcades, and penurious society are likely to surface. True, Great Yarmouth suffers from economic deprivation and hardship. One can see it in the buildings, street and faces. However, it is also fair to presume that this perception too is deprived and one-dimensional.

Read more...

South-West based Kernow Installations Limited have just completed an audio-visual installation in a renovated chapel in Wadebridge which has now become the new home for R.J. Bray Funeral Directors.

The installation required a stylish architecturally sensitive audio visual system for both the chapel used for services and the overflow room on the first floor. A 55″ Smart screen shows an HD quality image of service proceedings downstairs via a Dahua eyeball camera.

Read more...

Lancashire based TSB Ironcraft, who have been making quality wrought iron gates since 1990, can also install electronic systems for both swing gates and sliding gates to give extra security to church and heritage properties. All the systems they install come with a full two year warranty, subject to service.

The kits for swing gates come in two types. With the underground kit, the motor is fitted in a galvanized box and then concreted in and then the gate is welded to a shoe and hung from the top hinge. With the 'ARM' kit, you can have a normal pair of gates that have been hung in the usual way, then the arms are fixed behind the pillars and a bracket welded to the gate.

Read more...

Holywell Park dates back to medieval times and in 2013 Ipswich Council received a substantial grant from the Heritage Lottery Fund for the Park. Some of this was used to restore the Grade II listed Victorian orangery which had been boarded up for many years.

Dorothea Restorations undertook the restoration of all timberwork, wrought iron and the reinstatement of historic crown glass within the structure.

Read more...

Tim Fuge, a self-employed leadworker from Liskeard, Cornwall was crowned Young Leadworker of the Year 2016 at a prestigious ceremony in Central London on 13

th

May. The competition, now in it fifth year and run by the Lead Sheet Association, is open to leadworkers around the UK under 30 years of age.

Read more...

It is perhaps a little-known fact that the region in England we think of the as the loose conglomeration of the East Midlands actually has an official identity: it is one of the regions of the UK recognised by the EU as one of Europe's Level One "nomenclatures d'unités territoriales statistiques", or NUTS. Officially, the East Midlands comprises Derbyshire, Leicestershire, most of Lincolnshire, Northamptonshire, Nottinghamshire and Rutland.

Historically, of course, the East Midlands region is much more than a device of the EU to find convenient parcels to divide Europe into. Many of England's strategic decisions have been taken there – often on the battlefield, but also diplomatically. Richard III fell there – the last English king to lead his troops into battle.

Read more...

This June a team of 9 adventurous, courageous and tenacious individuals from Rosehill Furniture Group shall attempt the National Three Peaks Challenge to raise funds for two very special charity causes that are close to our hearts.

Help them in their quest to complete the challenge and raise an amazing £3000 in aid of The Christie and Action on Womb Cancer. The funds raised will be split equally between the two charities so please support the challenge and give generously.

Read more...

Rainclear Systems, the UK's largest stockist and online retailer of metal rainwater systems, is pleased to introduce an innovative improvement to its already popular, contemporary, SnapIT extruded aluminium rainwater system.

All those who have seen and used SnapIT before have found its contemporary styling, simple 'bolt-less' joining guttering and swaged downpipe system an impressive finishing touch to their project. Now the system has been engineered to incorporate an even more stylish finish.

Read more...

The Honourable Society of the Inner Temple, commonly known as Inner Temple, is one of the four professional associations (Inns of Court) for barristers and judges in London. The Temple takes its name from the Military Order of the Knights Templar.

The old Buttery and Crypt date from the 14th century and are the oldest rooms still in use in the Temple. The Buttery, a Grade II* listed building, is also one of the very few 14th century secular stone buildings in Greater London. With an average wall thickness of 2400 mm, the dehydration of these walls was not possible with traditional methods.

Read more...

On June 10th, Cheshire based contract furniture specialists, Rosehill Furniture Group, set off to complete the Three Peaks Challenge. Eight courageous Rosehill team members took park in the challenge in aid of The Christie, and Action on Womb Cancer. The ultimate goal was to raise £3,000.

Read more...

Architectural terracotta and faience specialist, Darwen Terracotta has triumphed at the Hive Blackburn and Darwen Business Awards, winning the Newcomer Award. Finalists were joined by dignitaries, sponsors, judges and supporters at an exclusive black-tie event held at Blackburn Cathedral where the winners were announced and celebrated on stage.

Steve Allan, operations director at Darwen Terracotta, said, "This win is for the whole team and everyone who helped set up the business. It is a massive thank you to all 25 of our staff and their hard work over the last six months so we are really proud."

Read more...

A traditional craft business which uses artisan tools and techniques dating back thousands of years has launched its own online shop.

Nigel Tyas Ironworks, which still fires and works metal following the same principles developed in the Iron Age, has embraced e-commerce and digital marketing to reach more customers and boost trade.

Read more...

Rainclear Systems has been in the business of providing customers with high quality Cast Iron Rainwater products and a high quality of advice and service for over 10 years and are often asked how to cut or drill Cast Iron Guttering.

Traditional Cast Iron Guttering was chosen for its durability as well as beauty. But this toughness, that makes it last 100+ years, does not make it hard to work with. The system is made of components so, though it is still often a two man job to install, the components can be replaced as needed, while others can often be renovated, restored and reinstated.

Read more...

The winners of the UK Roofing Awards were announced at a ceremony hosted by BBC's Steph McGovern at the Hilton London Metropole on Friday 13th May 2016.

The winners are:

Read more...

In an industry often driven by price Rainclear Systems, online retailer and the UK's leading distributor of metal guttering and downpipe products, has not compromised on quality.

In contrast to inferior and less eco-friendly PVCu the Galvanised steel rainwater system supplied by Rainclear is highly durable, made from a high percentage of recycled metal and 100% recyclable at end of life.

Read more...

The Aquapol masonry dehydration system is the latest development in wall drying technology. Its main area of application is the dehydration of buildings affected by rising damp.

The heart of the system is a small, lampshade-like device which is installed onto the ceiling. The device uses wireless technology to dry out the walls.

Read more...

For the first 1500 years of the Church's life, pews were extremely rare. In most medieval Churches for example, people stood or sat on the floor with only a narrow bench around the edge of the building for eating. Some Churches never even got around to installing pews and in Eastern Orthodox Churches in Russia and Greece worshippers still stand today!

Pews render the space in Churches virtually unusable for anything other than two hour long events a week. A recent survey found that pews effectively exclude 90% of people who are not regular attendees of services.

Read more...
<< Start < Prev 1 2 3 4 5 6 7 8

9

10 Next > End >>


Page 9 of 51