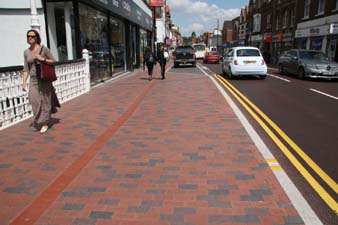 The overall principle of this Kent County Council scheme, designed by Russell Florey at Amey Consulting, was to shift priority from vehicles to pedestrians in Tonbridge town centre and thus provide a more pleasant environment for shoppers. Russell explains that "previously the pedestrian experience in Tonbridge had been poor with very narrow footways, wide carriageways and three Pelican crossings. The new scheme has widened the pavements significantly, narrowed the carriageway, constructed designated loading bays, imposed a 20mph speed limit and introduced a table top feature (carriageway & footways all at one level) to allow able-bodied pedestrians to cross more easily."
Read more...
The new Chapter House at St Albans Cathedral, one of the oldest cathedrals in Britain, was opened in 1982 by Her Majesty Queen Elizabeth II.

Designed by the renowned architect Sir William Whitfield and his Assistant Andrew Lockwood, the new Chapter House was rebuilt, on the footprint of its Benedictine predecessor, once the ancient site had been thoroughly excavated. These archeological excavations revealed the remains of eleven abbots, four monks plus monastic officials.

Read more...

A poignant service was held at Norwich Cathedral on Sunday 15 May, when the new grave of executed First World War nurse, Edith Cavell, was blessed and dedicated.

Edith, who was born in Swardeston in Norfolk, was executed by a German firing squad on October 12, 1915, after helping Allied prisoners escape to Holland.

Read more...

It might be difficult to imagine, but the earliest churches in England had no fixed seating; just a few stone benches around the walls and the pillars. People were encouraged to be active during worship, to move freely throughout the space, and to engage with others around them. The congregation was mobile and the interior of the church was not regimented into fixed rows of inflexible pews.

Not until the late thirteenth century was seating gradually introduced. Simply formed benches were introduced to which backs and ends were subsequently added. In time these became more sophisticated in form and design until churches were fully pewed.

Read more...

Only walking distance from Ascot Racecourse and high street, the grand Englemere development by Millgate offers 17 luxury apartments, set amongst 12 acres of manicured landscaping. This spectacular development is situated alongside the world famous sporting venue, with over 300 years of rich heritage, the grandstand shadows Ascot's picturesque high street and nearby quaint villages, boasting extensive shopping opportunities and a wealth of bustling bars and restaurants.

Read more...

Walmgate Bar is the most complete of the four main medieval gateways into the City of York. It is the only one to retain its barbican, portcullis and inner doors and has recently undergone a major programme of restoration work. This included repairs to stonework dating back to the 12th century and improving public access.

At the city centre side of the Bar is a two storey oak timber framed structure dating back to the 16th century. This part of the building had suffered from timber decay, structural defects and the rectification of failing repair works undertaken back in the 1970s and 1990s.

Read more...

As building owners or operators we are custodians of a number of valuable assets, such as the premises themselves and the often overlooked element of the need for continuity of operation. Plus, of course, when our buildings are occupied – human life.

So, as conscientious people we try to ensure our buildings are designed to be safe and managed as much as possible so as to prevent a fire.

They are equipped with fire detection systems and possibly fire suppression systems. We even develop and practice emergency evacuation strategies as part of our management plans. All of these aspects of fire safety are reasonably obvious and tangible items for responsible building operators.

Read more...

An innovative new scheme to create a community and heritage hub in the heart of Westbourne Green in Paddington – one of the most religiously and culturally diverse wards in London – has reached a major milestone as the Heritage Lottery Fund (HLF) awarded the project a £3.6m grant.

The St Mary Magdalene Development Project is a joint initiative between the Paddington Development Trust and St Mary Magdalene Church which will transform the church building into a heritage, community, culture and arts hub in order to enrich, regenerate and bring greater cultural cohesion to the local area.

Read more...

The summer saw work continue on the new church hall at St John the Evangelist in Redhill, Surrey. Following completion of the basement, which involved an impressive concrete pour of 120m3 to create the floor and a further pour of 43m3 to form the walls, the ground floor slab was cast and the dividing walls constructed. That gives the basement a sense of real 'space'.

Said Anna Bataille of main contractors Corniche: "The months of enabling works and basement construction are over, the project has really moved on and we are now in phase two. This is a really exciting place to be as the building now has form and the artisan trades can get to work."

Read more...

The British government have announced a £2.4 million fund to help secure places of worship in England and Wales. Churches, mosques and temples have been invited to bid for grants if they can show that they are at risk of attack from religious hate crimes.

Synagogues are excluded from the scheme because the government has provided a separate grant to the Community Security Trust, a charity that provides protection services to Britain's Jewish communities.

The scheme has been launched by Britain's Home Secretary, Amber Rudd, as she outlined a Hate Crime Action Plan. This will include a study into how the different police forces in the country understand and respond to hate crimes and a commitment from the government to "give young people and teachers the tools they need to tackle hatred and prejudice, including through a new programme to equip teachers to facilitate conversations around international events and the impact they have on communities here in the UK."

Read more...

The Lead Sheet Association is pleased to announce the launch of a newly updated version of its Rolled Lead Sheet Manual - the biggest revamp in recent years.

The 2016 edition contains many improved drawings, a better layout and clearer tables to ensure all users get the best out of Rolled Lead Sheet. In particular, we have improved the section on ventilation, an area in which our technical team deal with many enquiries. We have created a better step-by-step approach to ensuring you get the ventilation correct in a range of circumstances – from flat and pitched roofs to dormers.

Read more...

Thirty-nine grants totalling £14.5 million have today been announced by government for urgent repairs to Church of England and Catholic cathedrals in England. This is the second phase of grants awarded by the First World War Centenary Cathedral Repairs Fund.

Read more...

Even the smallest buildings can be of critical importance to their users, especially in relatively isolated communities. The performance and reliability of Advanced's MxPro fire alarm panels has seen them installed in another remote coastal location, the Atlantic Islands Centre on Luing, off the west coast of Scotland.

Situated south of Oban in the Firth of Lorne, the largely unspoilt 5.5 square mile Isle of Luing is one of the Slate Islands. The Atlantic Visitor Centre, in the village of Cullipool, is set to revitalise the island's economy, raising awareness of Luing as a tourist destination and offering a range of outdoor activities. The Centre will also provide a community hub for the island's 200 residents, providing workshops and office space. It also has the capability to be used as an emergency refuge.

Read more...

A new gutter sealing system called, Metseal, which means you no longer need to use messy silicone to make Cast Aluminium guttering watertight is available to buy on the Rainclear website along with all your guttering components, downpipes and fittings.

Read more...

St. George's Hall, Liverpool is regarded as one of the finest examples of a Neo-Classical building in the world. When constructed in the 1850s, the intricate encaustic tiled floor was the largest Minton pavement in the world at over 30,000 individual pieces. Today, the tiled floor is undergoing major restoration and the first stage is successfully completed. The complexity of the original Minton design makes this project one of the most exacting ever undertaken by the UK specialist tile manufacturer Craven Dunnill Jackfield.


Harvey Lonsdale Elmes, a London architect aged just 25, won a competition to design the original Hall, along with the new assizes court. Construction started in 1841: the building opened in 1854.

Read more...

Four outstanding young roofers from around the United Kingdom will be heading to Poland this coming October to take part in the bi-annual World Championship for Young Roofers, organised by the International Federation of Roofing Contractors (IFD). This year the competition is being hosted by the Polish Roofing Trade Association, PolskieStowarzyszenieDekarzy (PSD).

Through this international competition, the IFD aims to harmonise professional roof training, raise the profile of training to the public and create a common international message to promote the standards of skilled young roofers. The competition itself covers the three major roofing disciplines; Flat, Pitched and Metal and Team GB will be aiming for gold in Flat and Pitched.

Read more...

Heritage buildings, successfully refurbished, can make a significant contribution to community participation. When in need of a new or continued lease of life, sensitive creative intervention, new ideas, artistic expression and local interaction have the potential to help the buildings flourish.

The work of Sound Space Vision (SSV) in this field includes transforming a redundant Grade II Listed church in Hammersmith into a performing arts venue. Also, in Manchester, a sought after orchestra rehearsal space has been borne for the Hallé Orchestra out of a disused chapel.

At the University of Sussex Attenborough Centre for Creative Arts (ACCA), SSV, in collaboration with RHP Architects, have reinvented the facilities at the former Gardner Arts Centre. Remaining within the vestiges of the original 1960s design by Sir Basil Spence, it has been upgraded and transformed into effective rehearsal and performance spaces, teaching and workshop arenas and public gathering spaces for both its students, the wider community and professional ensembles.

Read more...

Carved Tudor roses on the woodwork of a grand Tudor house in Norfolk provided the inspiration for the creation of new leaded lights for a window of that same house. The new design, by Norfolk studio Kenton Brauer, is a replacement for an existing stained glass window which had become tired-looking, with some broken lights.

Kenton Brauer is a very personal Norfolk business, working to craft and restore traditional and contemporary stained glass and casements for ecclesiastical, commercial and domestic commissions. In the case of the Tudor house, in Harleston, partners Paige Kenton and Jason Brauer removed the existing stained glass and replaced it with a subtle design to complement the house's ambiance.

Read more...

When a major fire raged through the Grade One-listed Cupola House in Bury St Edmunds in 2012, the fire service called upon local specialist builders Seamans Building to make the building safe. After bringing in long-reach demolition plant to help secure the structure, Seamans embarked upon clearing the debris, preparing the site for surveys and erecting a temporary scaffolded structure to preserve the integrity of what remained.

Architects Purcell then began work, in partnership with English Heritage, St Edmundsbury Borough Council and a team of specialist consultants, to stabilise the surviving built fabric and reconstruct the lost historic features. Using all the available information about the building, which was built in 1693, the architectural team recreated the principal spaces and reintroduced many of the building's architectural details, including panelling, cornices, architraves and the staircase.

Read more...

From April to July, roofing apprentices from around the UK demonstrated their skills at regional heats to gain a place at this year's SkillBuild Final, taking place on the 17th-19th November, at NEC Birmingham.

The competition, organised by the National Federation of Roofing Contractors (NFRC), saw fifty-five competitors taking part in one of eight heats, which were overseen by three judges, Matt Timby, Simon Dixon and Bob Coutts, who's vast experience of roofing competitions range from a past SkillBuild winner to a recognised mentor for the international competition: World Championship for Young Roofers.

Read more...

Britain's largest industry survey of its kind has exposed a lack of accreditation knowledge among those working with lead in the construction industry.

This is one of the key takeaways from the UK-wide survey of more than 250 lead merchants and end users, commissioned by Midland Lead and conducted by Firebrand Insight, an independent research consultancy.

Read more...
<< Start < Prev 1 2 3 4 5 6 7 8

9

10 Next > End >>


Page 9 of 53