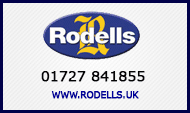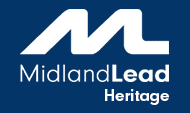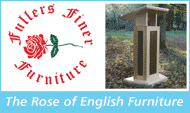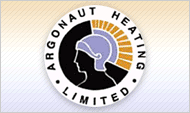 Promotional Videos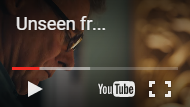 Watch the latest videos from the church & heritage sector here
Heritage Crime

The development of the Heritage Crime Programme in England
Mark Harrison, Head of Heritage Crime Strategy at Historic England, outlines the development of their Heritage Crime Programme.
Historic England defines heritage crime as: "Any offence which harms the value of England's heritage assets and their settings to this and future generations."
Heritage Roofing

Heritage Roofing Register - a helping hand for architects
A unique register of heritage roofing specialists is providing much needed help and assurance for architects and specifiers when working on heritage projects. The Register is the brainchild of the UK's largest roofing trade association, the National Federation of Roofing Contractors (NFRC).
Drone Surveys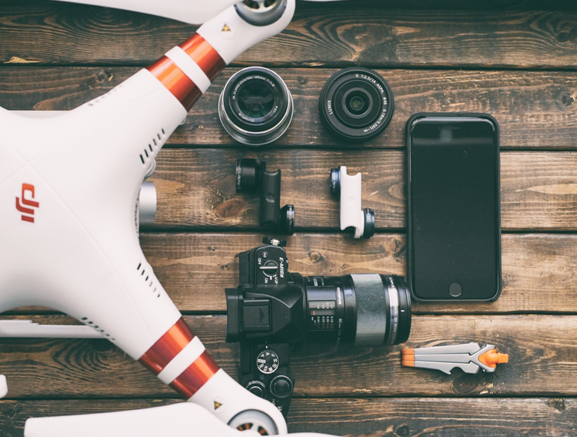 Your surveys no longer need to be done on a wing and a prayer
The use of unmanned aerial systems (UAS) is rapidly expanding as the carers and keepers of old buildings and churches learn how much easier and more cost-effective completing surveying and maintenance projects can be with the professional use of drones.
Lightning Protection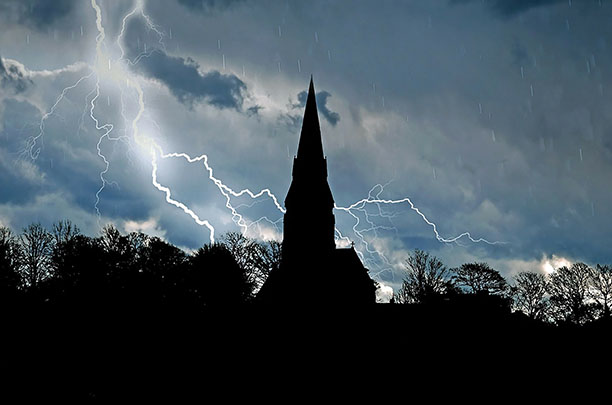 When lightning strikes are you protected against this act of God?
The issue of lightning protection in churches is one that has exercised this publication for many years. In this four-part series of spotlights on the issue we will be revisiting various aspects of the subject, beginning with an overview of current thinking.
CRE Events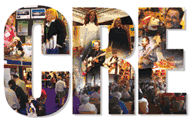 Manchester proves to be the magnet as CRE returns to the North
Sold out! signs are up at Event City in Manchester, ahead of the much-anticipated return of CRE North – with more than 130 organisations taking all the space earmarked for the show, which runs from 13-14 March.
Pest Control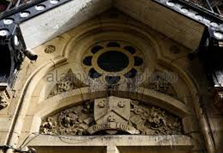 Bird damage to church and heritage buildings
Church and listed building owners - and managers for large property owners in the sector such as Historic England, the Public Monuments and Sculpture Association, and the National Trust - understand property wear-and-tear very well. In fact, those who manage such facilities must budget for repairs and maintenance of their grounds and buildings each year.

Read More...
Fire Guidance
Fire guidance for churches and heritage buildings
Fires in churches and heritage buildings have a number of causes and can have devastating consequences – not only in terms of damage to property, but also as the cause of serious injury and even loss of life.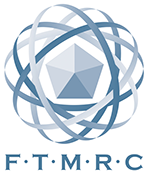 Working in partnership is key to success
This was the key theme in the chairman's introduction to the recent FTMRC statement. Chairman, Trevor Corser, also managing director of JTC Roofing Contractors Ltd, said:
Leadworker Register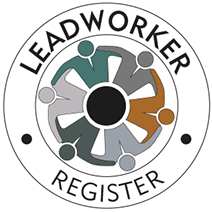 The Leadworker Register - putting skills at the heart of the industry
The Lead Sheet Association has been developing and running successful training and qualification initiatives for many years to help ensure that standards of leadwork are high across the construction industry.
Lead Contractors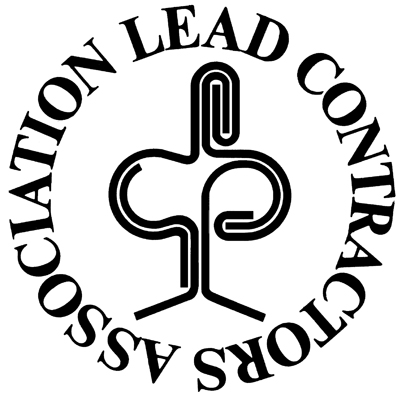 Members offer 25 years peace of mind
The trade body that represents the leadworking industry – and guarantees quality in that industry – is the Lead Contractors' Association (LCA). The LCA was formed in 1984 to promote quality standards in leadwork and now comprises over 70 specialist contractors committed, supported by 15 associate members who supply materials and ancillary services.

Read More...

by Paul Trace, Managing Director of Tuscan Foundry Products Ltd.

From North to South, East to West, the UK has approximately half a million Listed buildings. In addition there are numerous period properties dotted around the country in conservation areas and areas of outstanding natural beauty. These buildings form an important part of our countries history and provide a valuable insight into techniques and designs from years gone by.
Read more...
| BS6651:BSEN 62305

Dear Sir/Madam,
I read with great interest your article on lightning protection in the magazine and the changes in the standards from BS 6651/1999 to the new BSEN 62305. I would like to point-out that fortunately, there are alternatives to the new system that carry European Be International Standards and have done so for many years. Very few Church's, historic or listed buildings could afford the original full BS 6651 system, most in point of fact, have only part systems or less. I have always been aware of the cost involved especially in the case of Church's and Historic Buildings.
Read more...

The NHTG Traditional Building Craft Skills in England research identified the need for a UK wide unified Accredited Heritage Building Contractors Register, with regional and national emphasis.
Read more...

By Iain Mair

Keeping noise down to an acceptable level in older buildings can be very difficult. Usually, this is due to the fact that the property, be it a family house or converted property, was never constructed to cope with 21st century noise levels!
Read more...

A 'treasure trove' of ancient records dating back over 1,300 years to the origins of Peterborough will be unveiled at Peterborough Cathedral's Deanery on Saturday 3 July at 12 noon.
Read more...

The Bowes Museum is forecasting a Great British Summer, with the launch of a major new exhibition and the opening of new galleries.
Read more...

The revision of EN 459 (BS/EN459) Standard for Building Limes has been a protracted process that started in 2004. The final draft is now at the stage of being approved at National level within the EU Nations. The revised Standard re-classifies Building Limes as follows:
Read more...

Historic Scotland announces new research into castle's skeletons following BBC show.

A dramatic reconstruction has revealed the face of a medieval knight whose skeleton was discovered at Stirling Castle.

This Thursday, BBC Two's History Cold Case series will attempt to discover the identity of the warrior who may have been killed during Scotland's Wars of Independence with England in the late 13th and 14th centuries.
Read more...

Since setting up a surveying practice in 1993, I have often been asked to look at period properties, particularly for a pre-purchase inspection. In my experience there seems to be a common theme running through many of the cases that I look at, issues that we in our profession need to address: a lack of maintenance and poor quality of work.

To see more information about Hall & Ensom click HERE

Read more...

In 1568 while staying at Carlisle Castle in Cumbria, Mary Queen of Scots became the first recorded monarch to actively enjoy watching a football match. Twenty of her retinue played a two hour game and according to Sir Francis Knollys, all played "very strongly, nimbly and skilfully, without any foul play offered."

Read more...

In response to the huge increase in the theft of scrap metal, wireless security specialists Tag Guard Ltd have developed a purpose-designed solution that could become a major deterrent.

Read more...

Mellor & Mottram Mechanical Services Ltd were established in 1973.
The company was originally run by Roger Mottram and Jack Mellor who are now both retired. The company is now run by Stuart Mottram who personally looks after all interest in the company and also carries out all surveys on a one to one basis with clients.
Read more...

Recclesia Ltd specialises in the conservation and restoration of churches, listed buildings and ancient monuments. Acting as principal contractor, our team has over forty years of experience in specialist works to some of the UK's most outstanding buildings, with recognised expertise in stonemasonry, limework, metalwork and stained and leaded glass.
Read more...

York company plays key role in scottish palace recreation

Historic Scotland is delighted to announce the award of a series of specialist contracts for its ongoing Stirling Castle Palace Project.
Read more...

The National Heritage Ironwork Group (NHIG) will be setting up and running a Heritage Blacksmith Bursary project, the first specialised training programme for Blacksmith Conservators thanks to a Heritage Lottery Fund (HLF)  grant awarded under its 'Skills for the Future' programme.
Read more...

Born 1903 at Roby, near Liverpool, England, the third child of Charles Green, a leather merchant, and Hannah, nèe Greenwood. The abbreviation Fred has been used by the author for his hymnwriting: his close family, and in particular his late wife Marjorie, used Derick.

Read more...

The UK roofing industry celebrated and recognised outstanding industry achievements at The Roofing Awards Annual Congress awards lunch on Friday 14 May, in Hammersmith when some 550 celebrated all that is best across roofing spectrum.
Read more...

Greenough & Sons were proud double winners at the 2010 NFRC Awards last month in London.
The recent heritage project Chester Town Hall, for which the company acted as Main Contractor and specialist roofers, beat excellent competition to the crown of the UK's best slating and tiling project of 2009.
Read more...

The Department for Culture, Media and Sport is seeking to appoint individuals with expertise in i) Education/Community Engagement, and ii) Local Authority Representation as Commissioners of English Heritage.

Read more...

Chiswick House Gardens is a site of international importance both as the birthplace of the English Landscape Movement, and as the setting for one of the most beautiful houses in London. The regeneration of the gardens is a result of many years of campaigning, four years of fund-raising and two years of work on the site.

English Heritage (manager of the House) and the London Borough of Hounslow (owner of the Gardens) established The Chiswick House and Gardens Trust as an independent charity to drive forward an ambitious rescue plan for the Gardens and secure its future for the 21st century.

The garden restoration, managed by English Heritage, and supported by a Heritage Lottery Fund grant of £7.9 million, recovers the original vistas and design from decades of disrepair and underfunding, and also repairs and restores the statuary and garden buildings. The result is an inspiring balance between a historic landscape and a public park.

Highlights include the planting of over 1,600 trees, including trees propagated from the original 18th century cedars of Lebanon; the opening up of historic views from the Classic Bridge, the complete restoration of the 19th century conservatory housing a rare and internationally important collection of camellias; the planting of native trees and shrubs in the Northern Wilderness, and the restoration of the Walled Gardens, which will be open to the public on special days.

To complement the restoration, award-winning architects Caruso St John have designed a new café within the grounds, on a carefully chosen site close to Chiswick House on the east side. The new café provides indoor seating for 80 people and external seating for over 100, and forms the social hub for the park, with a newly created children's playground beside it.

The future of one of London's oldest buildings, the Chapter House at Westminster Abbey, has been secured following a major English Heritage-led repair and conservation project. Over the past 18 months a team of 20 master carvers and stonemasons has painstakingly cleaned, repaired and conserved the badly weathered gargoyles, stone floral friezes, flying buttresses and stained glass windows. The colossal scaffolding has now come down to reveal the majestic exterior completely refreshed, revived and weather-tight.
Read more...
<< Start < Prev

51

52 53 54 55 56 Next > End >>


Page 51 of 56