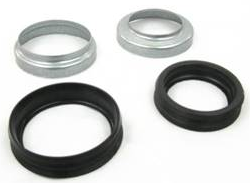 Rainclear pride themselves on offering the very best customer service and a wider choice of sizes, profiles and colours with Next Day delivery - so they have not only increased their stock ranges considerably over the past 12 months but have also, in response to requests, added a few useful accessories to the stylish and affordable Galvanised Steel Rainwater range, for example: -
Read more...
Newtech Southern was asked to submit a proposal for replacing the church video and audio system at the Church of the Good Shepherd in Surrey. After several meetings to ensure that the new system design was adequate to meet the needs of the church Newtech was awarded the contract to design, install and commission a new audio visual system.

Read more...

Yorkshire-based Bygone Times, who specialise in antique clock restoration and repairs, recently undertook a repair project at the Grade II listed St Wilfrid's Church in Scrooby, Northamptonshire.

Read more...

After the modernism that followed the war, no one expected we'd see hand-carved ornamentation in our architecture again, writes Master Carver Ian Agrell. Yet here it is. We're enjoying a resurgence in classical decoration, whether it's a restoration of a 400-year-old church, a brand-new chapel with a Gothic organ case, or a Louis XIV-style library for a billionaire's London penthouse.

Large architectural firms are increasingly winning projects requiring hand-carved woodwork. However, many of these companies—especially those more experienced in modern styles—know little about classical decoration or the ornamentation industry as a whole. They might not know that woodcarving workshops still exist.

Read more...

The Lead Sheet Association has been developing and running successful training and qualification initiatives for many years to help ensure that standards of leadwork are high across the construction industry.

As well as delivering courses at its Training Centre in East Peckham, Kent, the LSA has also been working in collaboration with the Lead Contractors' Association to set up the Leadworker Register.

Why create a Register?

One of the reasons the LSA felt the creation of the Leadworker Register was important was for many years it has been asked by a range of people to provide details of competent leadworkers. It felt the fairest way to do this was through a Register which is transparent and allows contractors, specifiers, architects and others in the construction industry to find the level of skills needed for the job in hand.

Read more...

As part of the Wigan Town Hall refurbishment, restoration specialists Darwen Terracotta and Faience have manufactured and supplied 110 replacement bespoke terracotta pieces. Designed by local architects Nuttall and Cooke, the grade II listed Town Hall has been part of the street scene since 1867. It has now been restored to its former glory, with the new terracotta elements installed by expert restoration contractors Stone Central (NW) Ltd.

Read more...

The York Handmade Brick Company, based at Alne, near Easingwold has won a prestigious award for its outstanding health and safety record.

The award, presented by the British Ceramic Confederation, recognises the crucial work that The York Handmade Brick Company has done in enhancing workplace safety over the years.

For the last two decades the family-run company has been fully committed to 'The Ceramic Industry Health and Safety Pledge', a bold industry wide promise to engage in a process of continuous improvement in health and safety.

Read more...

Christmas worship will be a more comfortable experience for the congregation at St Mary's Without-the-Walls in Handbridge, Chester. Stoke-on-Trent heating specialists Mellor and Mottram completed the installation of a new system in the 19th-century building at the beginning of November, allowing worshippers time to get used to the new-found warmth before Advent.

The church was built in 1887 to replace the original St Mary's On-the-Hill, which is now a heritage centre inside the city walls.

The new system comprises two gas boilers from Rinnai, the award-winning manufacturer based in nearby Runcorn. The boilers feed radiators from the Jaga range, featuring low surface temperature for added safety of the congregation.

Read more...

Hymn Technology Ltd was established in 1995 to market and distribute an American electronic hymn player in the UK. Directors Martin Phelps and Alan Kempster, who between them had amassed over 50 years experience in the organ industry, saw the huge potential for a unit that could accompany congregational singing in the absence of either musician(s) or instrument(s).

The US manufactured product sold well, but it became apparent after a while that churches needed a far more advanced and complete solution to what was clearly becoming a huge problem - the lack of competent musicians in churches up and down the land who were prepared to make the commitment to be available every Sunday.

Read more...

Architectural ceramics specialist, Darwen Terracotta and Faience, was chosen by Charles Holland of commissioned artists Ordinary Architecture to build the artwork Foundation Myths. This pioneering sculpture has been installed at the new Artists' Garden at the York Art Gallery. The work comprises ten, life-sized, ceramic tree stumps arranged geometrically in two rows to echo the foundations of a former building.

Read more...

The winner of The King of Prussia Gold Medal was announced by the National Churches Trust and the Ecclesiastical Architects and Surveyors Association at a ceremony held at St Mellitus College, London on 3 November 2016.

The King of Prussia Gold Medal for church repair and conservation architecture was won by architects Lloyd Evans Prichard for their work to restore the spire of Sir George Gilbert Scott's St James Church, New Brighton, Merseyside. St James Church received a £500 prize.

Read more...

Blenheim Palace is a large iconic country house near Woodstock in Oxfordshire. It is home to the Duke of Marlborough and birthplace of Winston Churchill. As part of a large restoration project on the East Courtyard Tower, Mansfield based Time Assured was chosen to restore four large stone clock dials and a decorative gold coronet above the west dial.

Read more...

The problem of lead theft can be a huge source of distress and damage but there are alternatives. Over the long-term, metal roofing is the most cost effective - a typical metal roof can last over 100 years whereas other roofing materials need to be replaced, sometimes more than once, during that time.

Minimum maintenance

A properly installed copper, stainless steel or zinc roof is a once-and-once-only job, with little or no maintenance required. Copper and zinc gradually develop a durable patina, which reforms if damaged, while stainless steel is inherently resistant to corrosion. No chemicals are needed – the roof is resistant to decay and naturally fire proof.

Read more...

The Crompton & Shaw Memorial was commissioned by the Crompton War Memorial Committee in 1919 and the bronze statue was made to a design by Richard Reginald Goulden. It sits on a granite plinth and depicts a male figure protecting children from marauding creatures. Today the Memorial is Grade II Listed.

Heritage Project Contracts was appointed by Oldham Metropolitan Borough Council to undertake conservation work to the Memorial. It had been previously restored in the 1970's when the original dark patina had been removed by abrasive means during treatment. The previous work was beginning to fail with corrosion occurring to the bronze beneath.

Read more...

Rainclear Systems, the UK's leading online retailer and stockist of metal rainwater systems would like to wish everyone a happy new year in 2017 with an extra 10% off all its rainwater systems.

Rainclear already offer to help with a take-off service from your architect drawings, ensuring you purchase all the right components at the right capacity for your home and the level of rainfall in your location.

Read more...

On November 10th the Brick Development Association hosted the prestigious 40th Brick Awards ceremony which entailed a special accent of glamour for the ruby celebration that rewards exemplary brick design and construction. Michelmersh had yet another successful year, grasping the accolade of Architect's Choice award for the Whitty Theatre designed by van Heyningen and Haward Architects.

Niamh Cronin, Project Architect at van Heyningen and Haward Architects, said: "The volume of the auditorium at the Whitty Theatre is expressed in brick both externally and internally. We looked at dozens of bricks to find the right colour and texture appropriate for the heritage setting of the School's grade II listed house as well as a brick that would create a warm and intimate atmosphere within the theatre auditorium. As we could not find a standard brick to meet our requirements, a bespoke Luckley mix from the Freshfield Lane Synthesis range was created especially for the project. The building sits elegantly within its context, and creates a state of the art theatre for students and the local community. It has been a fantastic project to work on, and winning a brick award for the project is an honour to be proud of."

Read more...

The front cover of our latest issue shows the roof of the London Oratory, the magnificent Roman Catholic Church in the Diocese of Westminster. The project to reroof the building was the winner of the Lead Contractors Association's prestigious Murdoch Award in 2013.

Martin UK Roofing Systems Ltd, who carried out the commission, used BS EN 12588 rolled lead from ALM, part of the 2iM Group, which again sponsored this year's Murdoch Awards to recognise the UK's very best in leadwork contracting. As a niche competition open only to specialist contractors, the awards highlight restorations on some of the country's most iconic buildings, and also some of the smaller, less fashionable, but no less detailed projects.

ALM's rolled lead sheet is now produced using material recovered from car batteries by another 2iM Group company, Envirowales. The group also includes Jamestown Metals Glasgow, Jamestown Resources Dublin and Royston Lead Barnsley.

Read more...

At this time of year, you may well be thinking about upcoming gatherings of friends and family, especially if you plan to host a party yourself and cater to a lot more people than you usually would. It's great to be surrounded by people at Christmas, but how can you possibly get everyone round the dinner table?

Mogo Direct has the perfect solution for you. They offer a range of brilliant value, premium quality folding tables which are ideal for welcoming more guests than usual, at home or at your event venue. Their main range covers plastic, wooden and metal folding tables in all shapes and sizes. Round, square and rectangular designs are available with centre-folding, adjustable legs and other handy features available.

Read more...

Killasmeetia Church has been given protection by LPTG Member in Ireland, ADS & Associates of Co Clare, having been struck by lightning.

Many believe that a simple rod at the top or highest point of a building constitutes a lightning protection system, however this case study illustrates that this is not the case.

The church is located in the middle of Ireland and was struck by lightning a few years ago. However the church did have a lightning rod on the cross (the highest point) at the opposite end of the building to where it was struck.

Read more...

Leadwork specialists Nova Contracts, based in Kilmarnock, have recently finished extensive leadwork improvements to the 5 star Turnberry golf resort owned and operated by new USA President Elect Donald Trump. As part of the 200 million pound refit the company's craftsmen built and installed 94 lead dormers in the accommodation area and replaced 300 sq m of lead cornice-ledge in the hotel's ballroom and hospitality roofing area.

An extensive 18 month refurbishment programme took place and Turnberry re-launched on 1st June 2016 with the redesigned Open Championship golf course, The Ailsa, available for play for the first time. Nova worked in partnership with DM Roofing, who provided tiling, joinery and roughcasting services on the Turnberry project.

Read more...

Are you a leadworker under 30 years of age? If so, don't miss your chance to give your career a boost and gain recognition for your skills. The Lead Sheet Association is launching its search to find the 2017 Young Leadworker of the Year.

The competition is open to leadworkers in the UK – whether you are self-employed or working for a contractor. You just need to be under 30 years of age on the closing date, Friday 24th February 2017.

Read more...
<< Start < Prev 1 2 3 4 5

6

7 8 9 10 Next > End >>


Page 6 of 51