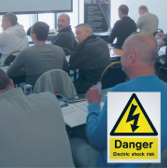 Electrical Safety for Sound Engineers, 4th October 2017
In our industry one of the greatest risks to our health is the electricity we work with. A mistake can be critical. We all need to understand the risks and minimise them.
Learn from an experienced practitioner who will take you through the principles of electrical safety and provide practical applications for our industry.
Course Presenter: Jason Brameld BSC (Hons) ARCS, MInstSCE
With a background in physics, Jason Brameld MInstSCE, has held Director responsibility for health and safety positions in contracting companies and has a pragmatic approach to problem solving and compliance. Jason is involved with the development of performance standards in the AV industry - having chaired the InfoComm Standards Steering Committee and has also been actively involved in developing and writing standards. Jason's career includes broadcast at the BBC, audio visual contracting, consultancy and he has served as a judge for the AV industry awards.
You will learn:
Circuit theory, mains voltage electricity and DC systems
Power and current calculations
The effect of electricity on the human body
The base principles of electrical safety
Electrical distribution - single and three-phase supplies
Earthing and bonding
Circuit protection
Personnel protection
Isolation procedures
Equipment testing
Common hazards/mistakes
For more information & booking, click here