Ecclesiastical and Heritage World
Dernier & Hamlyn Limited
Google Map
Unit 5,Croydon Business Centre
214 Purley Way
Croydon
CR0 4XG
Email:

This e-mail address is being protected from spambots. You need JavaScript enabled to view it
Website
Contact Person:

Jeremy Quantrill
Phone:

020 8760 0900
Occupation:

Church, cathedral and heritage lighting specialists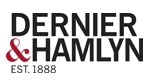 Specialists in bespoke and heritage lighting restoration, manufacture and design since 1888.
Our skilled craftsmen have been making and refurbishing light fittings for palaces and parliaments, cathedrals, churches, listed buildings and stately homes for over 125 years. Today, we continue to use our expertise and innovation to help clients overcome their lighting challenges.

In recent years, we've developed an outstanding reputation for our work in restoring some of the most important and architecturally significant light fittings in palaces, cathedrals and other public buildings. We were awarded a Royal Warrant by Her Majesty the Queen in 2001.
Our skilled craftsmen are experts in refurbishing, renovating and repairing all sorts of light fittings, from the smallest wall lamps to chandeliers weighing several tonnes. The work is challenging and requires unique skills and an in-depth knowledge of historic lighting. Indeed, some of the techniques used have remained unchanged throughout the company's history.
At the same time, technology moves on. Today, we're bringing historic fittings up-to-date to meet building standards or to incorporate energy-efficient emergency lighting – and at the same time adapting some really old fittings for electricity!
hide waysearch:

No
| | |
| --- | --- |
| Date added: 2013-05-31 13:43:08 | |